National and international scholarships provide current students with either general funding or immersive experiences.
Though many students focus on applying for scholarships during their final months of high school, the opportunities don't end when college classes begin.
Most major national and international scholarships are only available to college-level applicants. Many of these are more than just a sum of money, providing fully-funded experiences of immersion in other countries and cultures. These awards are competitive and time-consuming, but advisors and other resources guide students through the process.
Ball Bearings met with three individuals to discuss these scholarships and fellowships: junior Cruz Aleman, a Spanish and dietetics double-major who received the Cultural Vistas Fellowship; Dr. Barb Stedman, director of national and international scholarships; and Dr. Dom Caristi, Ball State's Fulbright program advisor.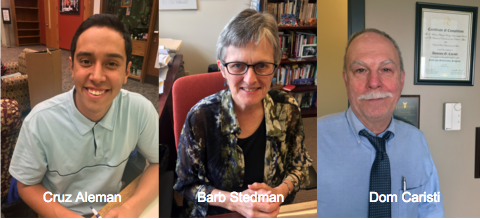 Ball Bearings: How well do you think current students are informed about the scholarships available to them after they have already begun their schooling?
Cruz Aleman: They are pretty well-informed, but it might be difficult for a student to read all of the many emails they receive each day. They might see something about a scholarship that looks cool, but they have to actually take the initiative to explore the options.
Barb Stedman: My constant struggle is to make sure students know about scholarships. Email is my most important tool, and I send out details about upcoming information sessions. I know that I'm reaching some students that way, but certainly not all, and I also know students have a tendency to just read the subject line and hit the delete button.
For the Gilman Scholarship, every single Pell Grant recipient on campus receives an email from the Financial Aid and Scholarships Office twice a year. I also do a lot of tailored emailing about scholarships targeted towards specific majors and minors. Sometimes I write personalized messages to every single eligible student, which gets a better response than the mass emails do.
I also have faculty recommend students to me. After I send the email to every professor on campus, it's literally within 60-90 seconds that I get my first response. Faculty care so much about their students, which I always find really touching. By the time I get all of my responses, I'll probably have about 300-350 students names.
We also have a Facebook page for scholarships, which is a really important way to stay up to date on upcoming deadlines.
Dom Caristi: For the Fulbright, we do our darnedest to get the information to students. But I can send emails until I'm blue in the face and people use their spam filters or ignore emails from faculty members they don't know. I can't even tell you how many students I've had say to me, "Man, I wish I knew about Fulbright." It's not for lack of trying: We tried to inform you, but you must have ignored the emails.
BB: What are some examples of these opportunities?
Cruz: Cultural Vistas is a nonprofit organization whose goal is mostly to bring exchange students from overseas to America. The Cultural Vistas Fellowship is what I received. It encourages international exchange through complete immersion in Argentina, Germany, or India. I was determined, specifically as a Spanish major, to go abroad, study, and become fluent. I applied and was fortunate enough to receive it. I'm super stoked. I go to New York in the end of May for pre-orientation, then I will be in Argentina two weeks later.
Barb: The 17 scholarships on my main information sheet are the ones that I consider most important, either because of the value of the scholarship, the prestige that's associated with it, or the number of scholarships offered by a particular foundation or government office. There are about 13 or 14 of those that I'm obsessive over and always trying to find students to apply for. The Boren Scholarship, which helps with study abroad; the Critical Language Scholarship; The DAAD, which is just for study and research in Germany – I don't get many applicants for that but I'm always hoping to find that student who is interested in Germany. Fulbright is a huge one that we do extensive recruiting for. There is also a Fulbright program just for freshmen and sophomores to do a summer program in the UK. The Truman Scholarship is for students who are interested in public service careers. The Udall Scholarship is for students who are interested in environmental issues, but also for Native American students who want to address particular issues within the Native American community.
Dom: The Fulbright program was created right after World War II by Senator J. William Fulbright of Arkansas. He conceived of an exchange program of scholars from the United States going overseas and scholars from overseas coming to the U.S. His whole vision was that you don't go to war with the people you know, so let's set up these exchange programs. Let's never have another World War II. The purpose of a Fulbright, first and foremost, is goodwill. It is convincing people in other countries that Americans are really nice people.
BB: What resources are available to students who need help finding and applying for national and international scholarships?
Cruz: There are whole pages dedicated to these scholarships on Ball State's website, and advisors who really want to help. Barb Stedman is a wonderful resource for national scholarships, and she is willing to go the extra mile. Faculty in general want to connect students to experienced individuals.
Barb: My website that is managed by my student assistants is a wonderful resource. It's used not only by our own students, but also by other universities. We have a section on the major scholarships that I mentioned, then the goldmine resource that I would like more students to know about is a link for other scholarships and fellowships. This has about 800 scholarships categorized according to majors and disciplines. There are also scholarships just for women, minority students, athletes, non-U.S. citizens, and other similar categories. Within each PDF is the name of the scholarship, the live link to the website, a short description of what you get and who it's for, and a general indication of the deadline. This is an amazing resource.
We also have a link for databases. I had a student a few years ago who was going on the World Tour. This was at the point when the World Tour cost well over $30,000. She scoured these databases meticulously for almost two years, creating an Excel spreadsheet to order scholarships by deadline. She applied for almost 20 scholarships, and in the end received $500 here, $1000 there, altogether totaling $15,500. That's a lot of money. Most students aren't willing to put the time and energy into using the databases, but they really can pay off.
Dom: First and foremost is the Fulbright website. Second, Dr. Stedman and I work with students. This is a highly competitive scholarship, and students need to be coached through the process. Dr. Stedman is amazing, and she runs several workshops on how to write scholarship proposals. I work with students to help them decide which country they want to go to or what they would like to do there. On a Fulbright, a student can do one of three things overseas: serve as an English teaching assistant, work on a Master's degree, or do an independent art or research project.
BB: How do national and international scholarships differ from government funding or internal aid?
Cruz: They are a lot more competitive and merit-based. They look at your service record and several other factors. It might be tricky to win, but if you apply to a number of them there is a better chance you will receive them.
Barb: Departmental scholarships for current students vary dramatically: some departments have a lot of scholarships to award, and some have very few. National scholarships, especially the more prestigious ones, will generally offer more support or funding. But you can always find exceptions. Some scholarships on campus are worth a lot of money, but they also typically give out only one or two. National or international scholarships will award dozens, sometimes hundreds, or even a couple thousand each year.
Out of my 17 major scholarships, nine of them are actually offered by the federal government. But government grants will be need-based, while the scholarships I deal with are merit-based. The only one of mine that considers need to any significant degree is the Gilman Scholarship, because that is just for Pell Grant recipients.
Dom: Nothing that you get through a Fulbright would be applied to Ball State. It's to help you go somewhere else after you've earned your Bachelor's degree.
BB: How difficult is it for students to receive these sorts of scholarships and fellowships when they are competing with other students nationwide?
Cruz: It is intimidating. Some of these scholarships don't have an interview, so they might be solely based on your résumé and essay responses. I suggest that students don't do volunteer work and similar activities just to look good, but out of a sincere interest. That makes it a lot easier to write those essays, be personally connected, and make yourself a better applicant in general.
Barb: Some scholarships are absolutely, ridiculously competitive, and some are easier to get. Out of the major scholarships that I handle, the Gilman Scholarship would probably be the least competitive. About one out of five applicants will get a Gilman. At the other extreme, sometimes you're going to find statistics like one out of 200.
Ball State students are competing against the best of the best from Ivy League schools and other outstanding institutions across the country. It may be shocking if they have a 4.0 GPA and amazing records of accomplishments at Ball State but still don't win a scholarship, but it's just because there are sometimes even more amazing students in the applicant pool.
Dom: Even though Fulbright applicants compete against students from Ivy League and Big Ten schools, Ball State gets two, three, or four Fulbright grantees every year. It's competitive, but we have some success stories to tell.
BB: What difficulties do students encounter as they apply for sought-after scholarships?
Cruz: For me, it was juggling everything else that's happening in life. You of course want scholarships to be a priority, but students are also taking classes, volunteering, working jobs – all these different worlds that we live in – and deadlines can be an issue. When I was working on my Cultural Vistas application, I was constantly in contact with my advisor, Dr. Andrea Wolf, exchanging drafts and making sure that my essays were on par. You have to maintain that constant contact and work on the application daily.
Barb: By the time a lot of students decide they want to apply for a scholarship, they oftentimes don't have the leadership or the community service record they need. You can't turn time back to your sophomore year to start volunteering.
A lot of our students are from Indiana, and Midwesterners are taught to be very modest. Students are sometimes unable to see their own amazing strengths, so it's part of my job to help them recognize that they really are interesting and fascinating people with unique qualifications.
Many applicants don't realize how much time and hard work applications require. They are used to putting out pretty good work in a couple weeks, but major scholarships sometimes require months to be competitive.
Dom: Fulbright applicants who are not becoming English teaching assistants need to secure an affiliation letter from a professor in another university. The letter says, "If you win the Fulbright, yes, you can come to school here" or "Yes, we will work with you on this research project." That's pretty difficult because you haven't met these people and they don't know you.
Everybody has difficulty with the essays because they are ridiculously short. Students are sometimes intimidated by a long paper, but imagine if you only had a page or two to explain your project. It's not just a matter of lacking mistakes: that is the absolute minimum.
BB: How does a national or international scholarship supplement a student's education?
Cruz: It can only boost you. It's a little surreal because it gives you a lot of exposure in the university and your professional life. The interim president included me in a newsletter to the faculty and staff and a lot of my former and current professors congratulated me.
The fellowship is something to put on a résumé, yes, but for me it wasn't really like that. As a Spanish major, I've always had an interest in becoming fluent in Spanish. I come from a Hispanic background, so my goal was always to be immersed in that culture and all the beautiful things that make up Argentina, then bring that back to the U.S.
Barb: It entirely depends on the particular scholarship. Some that I work with are to give students support for grad school. Others help students with study abroad, and may even include the actual experience as part of the scholarship. That's an important clarification to make. Some scholarships are just a chunk of money that students can choose how to use, while other scholarships are actually funding for an experience that the scholarship program offers.
Dom: The things that you will learn by spending a year in another culture – we're not talking  about just visiting another country. Millions of Americans each year do that. But do you go to the grocery store? Do you maintain your own apartment? If you go to England for a week, you are going to run from Big Ben to Buckingham Palace to London Bridge, but you're not going to spend time learning the things that people who live there deal with every day.
BB: What is the biggest misconception about these scholarships?
Cruz: I think the biggest misconception is that you will never win, and that you are doing it all on your own. I was happily surprised by the amount of support I got from Ball State. If you find the right people, they will stick with you and make sure that you succeed, or do what they can. A lot of people get intimidated by national scholarships, but just taking the leap to apply is all you can do.
Barb: I think one misconception is that they are exclusively for students with 4.0 GPAs. Academics do matter, but campus activities, leadership, and community service are going to be so much more important than a high GPA.
Another misconception is that when a student puts together a fabulous application, he or she is guaranteed to win. But that's not true. I routinely work with students who have amazing records of accomplishment here at Ball State and have put together wonderful applications, but they still don't win. I think I'm always more upset than they are.
Dom: I've talked to a number of students who think the Fulbright is Peace Corps work. They think they are going to go to another country and help poor people. Nope. That's not Fulbright – that's Peace Corps. A Fulbright is for you to grow personally and it's an educational exchange. You're not going over to help them build bathrooms or provide vaccines.