View a video interview with Kathrynne here.
Kathrynne Horine sat on the cream-colored carpet of her living room floor in Noblesville, Indiana, on an October night in 2012, streams of tears flowing from her hazel eyes. In her left hand, she clenched a loaded Smith & Wesson. She was 26 years old, five-feet tall, 150 pounds, and for most of her life she felt like a prisoner inside her male body.
Her girlfriend of three years had left her earlier that day, after hearing Kathrynne express her feelings of femininity. Despite her girlfriend rejecting her, Kathrynne didn't blame her. She knew most people, upon learning their partner identified as transgender, would act in a similar fashion.
The television screen against the back wall caught enough light from a lamp that Kathrynne saw her reflection staring back at her. She closed her eyes and placed the tip of the gun's barrel on her bottom lip.
She inhaled through her nose and slid the pistol into her mouth. 'What is the point of living?' she thought. 'No one accepts me for who I am.'
Her finger inched toward the trigger. At that moment, she heard a voice – a woman's voice – coming from inside her head.
'Just give me a fucking chance,' the voice said. 'Just let me come out and let me be you. I promise you'll be happy. You'll be free. You don't have to live a secret.'
In 2011, the Williams Institute of the UCLA School of Law analyzed four population-based surveys and estimated that Kathrynne is one of about 700,000 transgender individuals in the United States. Like Kathrynne, 41 percent of pre-op transgender and gender nonconforming individuals have attempted suicide. These numbers are probably lower than reported, as some people never express their feelings for fear of ridicule and rejection.
The early years
Growing up in Huntington, a rural town in northern Indiana, with conservative parents of faith, Kathrynne did not hear the term "transgender" until her last year in college. From a young age, however, she felt a disconnect with her male figure. "I always knew that there was something different about me," she said. "That there was some feminine presence in my body, in my mind, and I just never knew what it meant. I figured everyone had that and it was normal."
In middle school, Kathrynne created a female profile on an online chat room. The joy brought by being recognized as a girl far outweighed the private embarrassment felt for posing as one. As middle school became high school, fitting in became even more difficult.
Researchers from the National Center for Transgender Equality and the National Gay and Lesbian Task Force found that 78 percent of transgender and gender nonconforming children experience varying forms of harassment in grades K-12. Fifteen percent of the time, the harassment becomes so severe that the bullied child leaves school.
Kathrynne never dropped out of school, though there were times she wished she could. She was often the brunt of other kid's jokes and comments in recess and after school.
One Friday, in the fall of 1998, a thirteen-year-old Kathrynne was spending the night at a friend's house for a Mario Kart tournament on the Nintendo 64 with four other boys. Evening turned to night, and as bedtime approached, the intensity of each round magnified. "Out of my way, fag," one of the boys said to Kathrynne, running her off the track. She was used to the homophobic slurs by now, though she never understood why her peers singled her out. In her mind she was only acting as herself. 'I even like girls,' she thought. As usual, she buried her pain, anger, and confusion inside.
Kyle Kittleson, a psychologist at Ball State University and the project coordinator for the school's lesbian, gay, bisexual, transgender, and questioning ally program SAFEZONE, said the actions of the children who teased Kathrynne are a byproduct of the culture they were raised in. "There's something about when people don't fit into gender norms that makes people very uncomfortable, and they sometimes act poorly to that uncomfortable feeling," Kyle said.
After dealing with harassment throughout grade school and high school, Kathrynne was ready to escape Huntington and go to college. During her freshman year in 2003, Purdue University's enrollment was 38,847, which was more than twice the population of her home city.
One early afternoon in May 2007, Kathrynne took her normal spot in the far right seat of the front row in her sexual education class. As she looked around, she noticed that a table with three chairs facing the students had been added to the front of the room. The professor entered with two men and a woman, none of whom Kathrynne recognized.
He introduced the trio – a gay man, a lesbian woman, and a female-to-male transgender – as members of a lesbian gay, bisexual, and transgender panel. Kathrynne's curiosity heightened, and she sat up in her seat as the transgender individual began to speak. Kathrynne felt an immediate connection with this stranger. His childhood stories of loneliness and rejection compared to her own experiences. "Being transgender means being true to yourself," the trans speaker said, as he ended his presentation. The hairs on Kathrynne's neck stood up. Over the next few days she determined she was a woman in a man's body, but scared of what people might think, she continued portraying herself as a male in public.
Kathrynne's father died of a stroke the summer before she contemplated suicide. She never told him how she felt. She was frightened what he would say, what he would think of her. Fifty-seven percent of gender non-conforming and trans people experience significant family rejection after coming out, according to researchers from the National Center for Transgender Equality and National Gay and Lesbian Task Force.
Breaking free
In July 2013, Kathrynne, in the living room of her home in Noblesville, told her mother she was a woman in a man's body.
She hadn't planned to, but her mother sensed something was on her child's mind.
"What's going on?" her mother asked. "Are you on drugs?"
Having never taken an illegal substance, Kathrynne shook her head and continued packing her belongings in preparation for her move to an apartment in Indianapolis.
"Are you sure you're not on drugs?" her mother persisted.
"No, I am not on drugs," Kathrynne replied, as she piled dishes and crammed silverware into brown moving boxes.
"Well, are you gay?" her mother asked.
Unable to contain herself any longer, Kathrynne blurted out her secret. "Mom, I'm a transgender. I'm a girl."
Her mother leaned against the side of one of the room's couches, unable to support herself. She attempted to muster a response, but nothing came. Each passing second felt like an eternity to Kathrynne, as she waited for an answer. When it became apparent that no reply was coming she turned her back and tried her best to hide her tears.
After not speaking to each other for a week, Kathrynne invited her mother to lunch at a Mexican restaurant in downtown Indianapolis. As the hostess led them to a booth toward the back of the restaurant, Kathrynne desperately thought of a way to break the tension with her only close relative, but her mother spoke first.
"Alex," she said, calling Kathrynne by her birth name. "You're not transgender. You're a boy. I gave birth to you. You're a boy."
Kathrynne fought back a sea of tears. "I know I am transgender, and I want to transition to a woman," she said.
The waiter approached, placing a basket of tortilla chips in the middle of the table before retreating to the kitchen.
"It's against God's will for you to pursue this," her mother continued once they were alone again. "You have demons inside of you, and if you go down this path you will go to hell."
Kathrynne burst into tears, and several heads turned their way.
"You don't understand. You're not in my mind," she said. "I'm in my mind every fucking moment of every fucking day, and I'm miserable."
Chris Bojrab, the president of the Indiana Health Group, said the denial Kathrynne's mom experienced when her child confronted her with being transgender can be explained by the cognitive dissonance theory. "When someone comes across a situation or an idea that is so out of their norm, your brain has a hell of a time trying to integrate that into your story of how the world work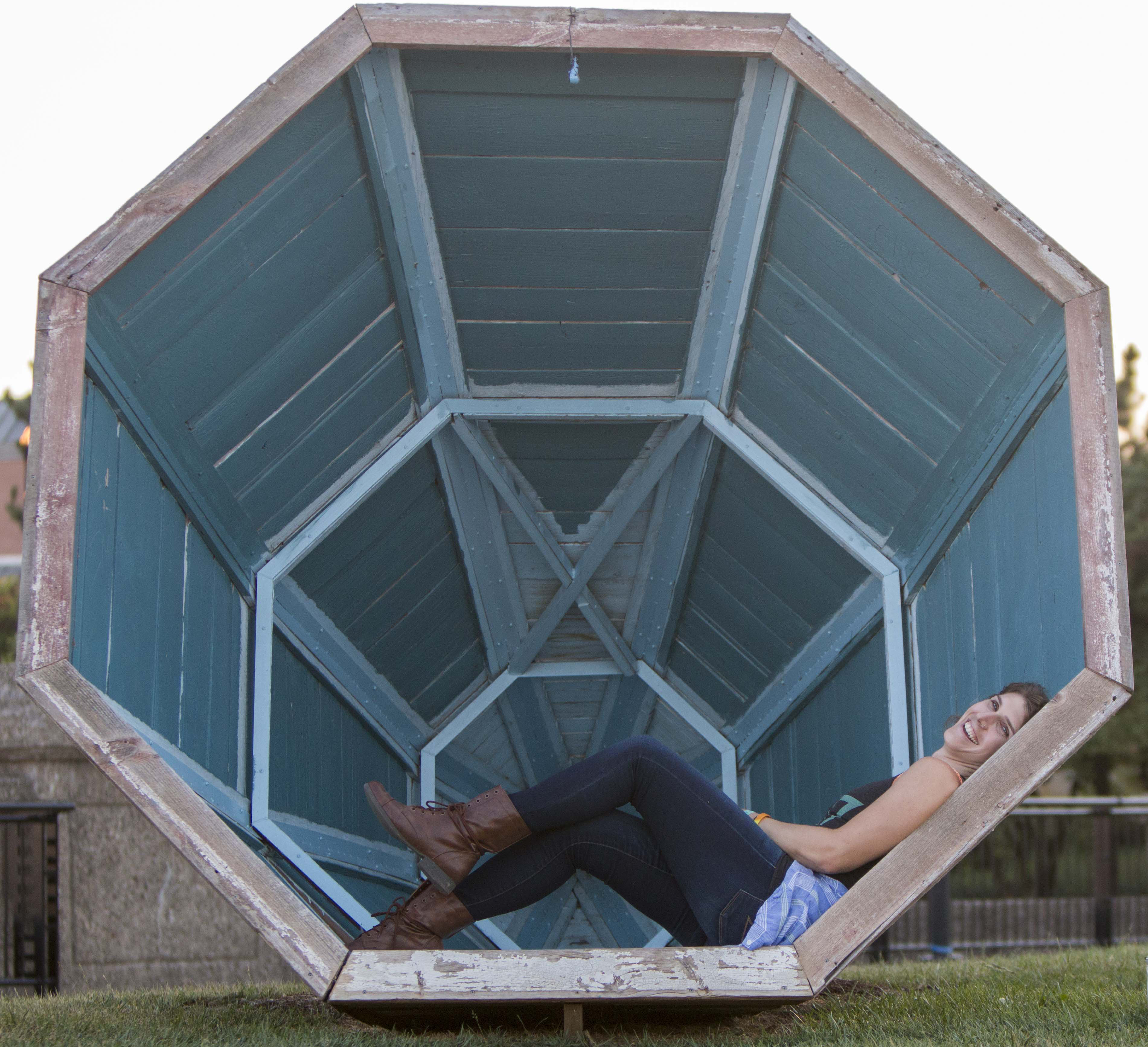 s," he said.
Against her mother's wishes, Kathrynne began hormone replacement therapy in February of 2014. But despite the personal satisfaction of finally being able to express herself as a woman, Kathrynne still felt unable to fully connect with society, even within her own community.
One night in April of 2014, Kathrynne was using the women's restroom at a gay bar in Indianapolis called the Metro. She opened the stall's door and made her way toward the sink, passing a lesbian who was waiting near the back wall. As Kathrynne washed her hands she looked in the mirror and noticed the woman staring at her. She turned off the faucet and faced her.
"Can I help you?" Kathrynne asked.
"You don't belong in here," the woman said. "You are a guy."
Kathrynne's male transgender friends had told her stories of their experiences with public discrimination in male restrooms, but she had never experienced it before. She did not expect the first time she would find herself in the situation would be at a gay bar.
"You don't need to be in here," the woman continued raising her voice.
Unsure if the woman, who was twice her size, intended to become violent, Kathrynne did her best to keep her composure. She dried off her hands with a paper towel and made her way to the exit.
As she opened the door she turned back around.
"I am a woman," Kathrynne said.
Kathrynne's experience with public harassment compares to those the majority of transgender people in America face as 53 percent reporting being verbally harassed or disrespected in a public setting. This minority group has little to no laws protecting them in most states. Abuse is not only tolerated, but has become commonplace in many areas of the country. Oftentimes, transgender-specific issues can be lost amidst the issues of gays and lesbians, a larger and more vocal subgroup.
Looking to the future
Transitioning usually takes about two years to complete. She is currently in her 18th month and has never been happier.
"When I look in the mirror, I see me for once," Kathrynne said. "Who I am on the outside matches who I am on the inside. For so long, people had preconceived notions of who I was and how I was expected to act, just because I looked like a boy. Now, people see me and they talk to me, and they expect me to act like a girl. I'm just happy I can be myself for once in my life."
Every Tuesday, she visits the same bar in downtown Indianapolis. The bar's employees would kick out anyone who verbally harassed her early in her transition. Now, Kathrynne says she doesn't receive the same level of hate and ridicule in public because of how well her transition has gone.
As a transadvocate, Kathrynne travels to universities across Indiana and spreads awareness on the struggles facing so many of today's transgender and gender nonconforming individuals. She feels that sharing her experiences will make the world a better place.
She also assists with the Indiana Youth Group, an LGBTQ ally, to create a centralized transgender community and resource center in Indianapolis. Myranda Warden, IYG's program manager, said the sooner support starts, the less likely gender variant individuals will engage in the risks associated with the population.
Kathrynne knows those risks, having experienced many firsthand. She will never forget the day she placed that loaded gun in her mouth. It was the day that changed her life. In the end, her ultimate choice was life. She stayed true to herself, and, to Kathrynne, that is what being transgender is all about.