A police officer shot an unarmed teenager and the next day people across the nation knew. Before masses could take to the streets in Ferguson, Missouri, Twitter, Youtube, and Instagram blew open a path for the ensuing images and outrage to rush through. Beneath the banner of #BlackLivesMatter, people mobilized from coast to coast. Seventy-nine percent of Americans say they feel more inclined to support social or environmental issues if they feel their contribution will make a difference or if immediate support is needed, reports Cone Communications. Millennials recognize the power of social media, and are taking on issues they care about to create change.
Despite this, the stereotype of the self-obsessed digital-native is a pervasive and popular one. So much so that when a 2013 article by satirical Filipino news blog, "The Adobo Chronicles," claimed selfies were indicative of a mental disorder, people bought it. The post went viral, scoring more than 18,000 viewers across top platforms: all from a site that proclaims itself to be "your source of up-to-date, unbelievable news."
A study by the American Press Institute found that 88 percent of Millennials get news from Facebook, with high percentages using Pinterest, Twitter, Reddit, and Tumblr as well. Millennials are also by far the most likely generation to post photos of themselves online, according to Pew Research.
But in many ways, Millennials are defying the trend of youthful narcissism by using social media as a tool to organize, heal, and help others.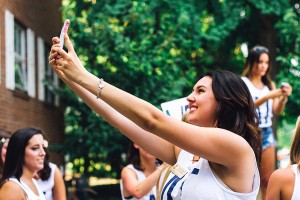 Activism, not slacktivism
Positive results can be hard to quantify in the rising culture of activism through social media, affectionately known as slacktivism. The Baby Boomers involved with the two-decade heyday of political-social rallies and marches from the '60s to the '80s might be left wondering where all of the protestors have gone. Millennials, however, seemed to have embraced this form of digital activism. Two out of three Millennials believe that online awareness can be just as effective as in-person activism, according to a 2012 study by the consumer research firm The Intelligence Group.
When Jacob Cail and Michael Mahoney, two twenty-something Muncie, Indiana residents, wanted to campaign for presidential candidate Bernie Sanders, the Internet was their first stop. Michael created the Facebook group Muncie for Bernie Sanders and posted the link to Reddit.
Using the page as a staging ground, the two organized regular meetings on and off Ball State University's campus. Though the group currently only has about a dozen people at the meetings, its online support has increased to about 200 members in only a few weeks. Jacob started the group Progressive Student Alliance, which also has the current main goal to campaign Bernie Sanders while also working on other progressive issues on campus.
Many of Muncie for Bernie Sanders' members are a part of other social-political student groups around the area, such as Ball State Democrats and Feminists for Action. These types of weak ties multiplied by shared ideals and social media may seem less influential than the strong ties of traditional protesting. But the incremental spread of grassroots support is what keeps Millennial ideals growing.
"I spoke to the Feminists for Action and asked them to announce this meeting for [its] members to come learn about Bernie Sanders, if it's not already supporting him," Michael said.
"We are grouping up with [FA] to do the SlutWalk (a rally against rape culture) in the coming weeks," Jacob added. "We're just trying to outreach to a bunch of different groups that fall under the umbrella of progressivism. We've also talked to the Black Student Alliance."
Collective medicine
Social media also provides a platform to raise money for causes. A study by PR firm Cone Communications found that 64 percent of Americans believe social media is an effective form of activism. After learning about an issue online, Millennials are 80 percent more likely to take action to support and donate to the issue.
In 2012, a spree-shooter killed 12 people and injured over 50 more at a screening of The Dark Knight Rises in Aurora, Colorado. One of those hurt, Farrah Soudani, had much of her midsection and left leg damaged by a bomb. Farrah didn't have health insurance, so the GoFundMe page, "Help Farrah and her Family," was started to secure money for her treatment and recovery.
Contributors raised $171,525 of its $200,000 goal over the next three years. Contributions ranged from single digits to thousands of dollars and came from more than 6,000 different people. The top contribution totaled $5,000 and came from an anonymous donor. The page was shared more than 1,700 times across social media platforms.
The cause won the 2013 Crowdfundie award for best charitable cause campaign. After recovering, Farrah told her story in an emotional court testimony.
Farrah isn't the only one crowdfunding helped after an abrupt tragedy. Crowdfunding site GiveForward raised more than $1.68 million across 364 pages for Boston bombing victims and their families.
Posting about grief
When an earthquake shook Haiti in 2010, Hôtel Montana collapsed with guests inside. In the wake of the loss, Facebook community Haiti Earthquake Hotel Montana emerged to commemorate the event. The timeline is filled with three years of articles, written correspondence and reflections. The "about" section concisely reads "Keeping the people of Haiti, and those who lost loved ones in our thoughts and prayers."
Hôtel Montana has since reopened and now takes reservations. The Facebook page remains five years later with its most recent post on January 12, 2015.
A study by the University of California Irvine and Rutgers University looked at the language used in Myspace comments on the profiles of the deceased. They devised a code to detect emotionally distressed language, differentiating it from expressions of sadness. Direct references to personal ongoing pain or difficulty were defined as emotionally distressed, as were posts containing certain subtle linguistic cues.
The researchers examined 2,213 randomly selected comments. In these cases, the average age of the deceased was just older than 27 years and 66.7 percent were male. Their most conservative figure detected 12.5 percent of comments contained definitive signs of ongoing emotional distress.
Mixing old models with new
New York-based group Charity: Water aims to provide communities with clean water and its donors with accountability. For people who fear donations only go to staff salaries, Charity: Water promises that 100 percent of public donations will go to water projects. Its operating costs are independently financed. To help verify the group's accomplishments, each completed project is logged on a map.
Part of the Charity: Water model is encouraging supporters to organize their own crowdfunding campaigns under the group's umbrella. Furthermore, campaigners are encouraged to devise a creative campaign and to spread the word using the hashtag #nothingiscrazy. Those with money to spend can drop the $10,000 to $25,000 to fully fund a project.
Charity: Water celebrated 2014 as its most successful year since the group began in 2006. For his 26th birthday, Seattle Seahawks safety Kam Chancellor raised $22,141 for the organization, which will provide water for 1,107 people, according to his Charity: Water page. Likewise, 4-year-old Aleytys Prater mailed in a one dollar coin with a hand-scrawled note, much to the delight of Instagram followers, to support the organization.
Supporters raised $27.9 million in total for Charity: Water projects in 2014 and expanded its operation to serve twelve countries. Its 2015 campaign is still continuing.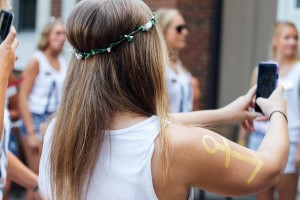 Nice narcissists?
It isn't just the older generations viewing Millennials as narcissistic and glued to social media. Pew Research found that 59 percent of Millennials perceive their age group as being self-absorbed. Forty-nine percent perceived themselves as wasteful and 43 percent as being greedy – starkly higher than other generations. The same study also found that 60 percent reject identifying as part of the generation. On the other hand, 39 percent identified as idealistic. So even within their own community, opinions on Millennial greatness appear to be split.
Whether they're posting an image of their dinner plate or fundraising to fill someone else's, Millennials spread their stories online. Young people utilize user friendly platforms with little to no financial overhead to achieve their dreams and make their mark.
Photos by Arianna Torres. Design by Amanda Bailey.