Your phone goes off and you expect a photo or a text. But instead you're greeted by the sounds of a beat and your best friend embarrassing themselves, rapping. You hit reply and the battle has begun. Welcome to Rapchat.
Rapchat allows users to send personalized messages to all their friends, similar to Snapchat. But instead of a quick picture or video, users send their best freestyle raps.
The app has a variety of preloaded beats, proclaiming that you can "find the one that fits your mood." With over 40 distinct beats there is one for just about any musical style. Rapchat even notifies you about their latest beats by sending a fire emoji to your phone.
After you pick your beat it's time to start your message. Do this by rapping, singing or – if you're not feeling as adventurous – using spoken word. Once you're happy with your recording then it's time to send it to your friends.
In my experience it's best not to replay your message and listen to it. If you do this you'll end up with the app for months without sending out anything, like myself. Let's face it, none of us are going to use this app to drop their next mixtape, so don't overanalyze yourself.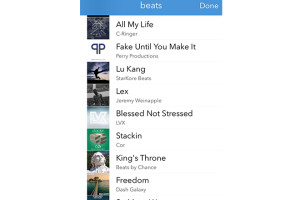 One big drawback of Rapchat is it's still up-and -coming. Not many people have the app, and like Snapchat you can only send your creations to fellow app users.
The greatest part about this app is that it's a noteworthy, creative way to reach your friends. It doesn't matter if you're a great freestyler or usually shy, sending or receiving a Rapchat is a surefire way to cause a smile.
So get on the IOS app store and download Rapchat for free. The only thing to lose is some pride when you realize that you aren't a good rapper.