Pinpointing exactly where the newest trends in stores come from can be difficult. Many times, it is assumed that the latest trends come from never-been-seen-ideas, but this is not the case.
"There's nothing new under the sun when it comes to fashion," said Dr. Diana Saiki, professor of fashion merchandising. The silhouette and contour of clothing, seen in past photographs and artwork, resemble the traits that modern styles possess.
Despite the inevitable repetition of fashion's "latest trends," there is hope for modern style. Through the invention of new fabrics and changes in the clothing industry, style is renewed.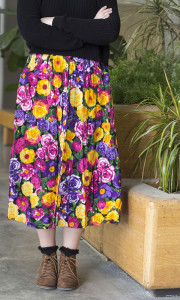 Fashion merchandising professor Valerie Birk, said designers "borrow ideas from the past and streamline them into a new fabric." The way designers are constantly updating previous trends with different fabrics gives the illusion that these designs are new to the eyes of the public.
"It's hard to come up with something brand new, in terms of pattern making, although there are different ways to fabricate it," Birk said.
Varying fabrications is not the only way to reinvent the fashion industry. Technological advances have made it possible to mass produce clothing rather than tailor to one person's specific needs.
"That kind of evolution caused a change in the way designers approached clothing so they became much freer to come up with different design concepts," Birk said.
An important take away from the fashion industry is this: classic pieces of clothing stay in constant fashion. They may receive a few tweaks here and there, but the general idea remains intact. This rule does not apply to trendy pieces. Trends tend to disappear from the industry and then reappear, with a bit of a makeover.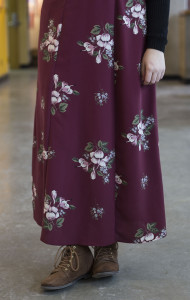 Here are a few examples of trendy clothing items that have graced Ball State's campus with their presence in the last few years.
A trendy piece that has been very popular in the warmer months for the last two or three years is the maxi dress. 1960s Mod fashion focused on the modern (hence the name): A-line skirts, simple silhouettes and bold colors. The "Hippie Movement"—a subculture that defied all rules, including the rules of fashion, rebelled against the receding hemline and vivid colors of Mod styles with the loose, flowing skirts and muted, floral patterns of the maxi dress. It was an act of rebellion that did not go unnoticed. The trend continued well into the 1970s, but lost momentum by the 1980s when they were replaced with structured power suits and shoulder pads.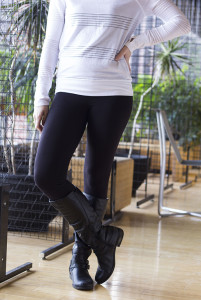 This next trend returned to fashion about four years ago to be used for the purpose of exercise, the same reason why they were first invented in the mid-1980s. Since then, leggings have gained popularity at tremendous rates, showing up in a variety of hues and patterns in stores all over the country. In the '80s, leggings gave an outfit a sporty, yet graceful, dancer vibe. They now serve as a more casual alternative to jeans. Because of their comfort and simplicity, it looks like this trend will be a wardrobe staple for a very long time.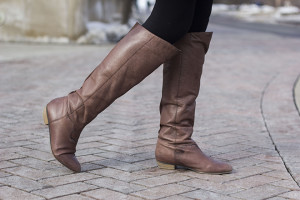 The last trend is commonly worn with a pair of leggings. The riding boot was a fashion creation invented, first, for function rather than aesthetic. They were a sign of nobility and wealth in the 1800s, but were still primarily worn only by horseback riders and men. Equestrians kept with the tall boot style for functional purposes, and it became a uniform for many riders. It wasn't until recently that the boots became a casual form of footwear.