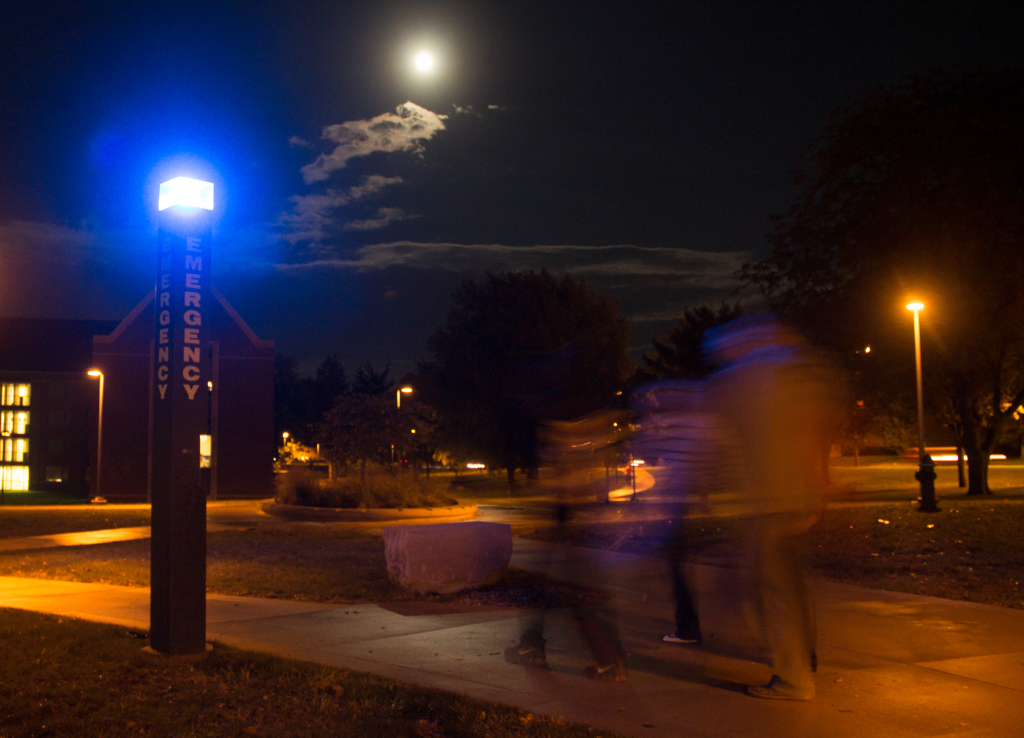 Headphones blaring, 13-year-old Morgan Grant obliviously meandered towards her mom's car in broad daylight. Little did she know, just paces behind her lurked her potential attacker.
Someone came around the corner and warned Grant of her attacker. The woman shouted so loudly that the man following Grant jumped and ran away.
"I did not notice that there was someone following me," said Morgan Grant, a freshman pre-business major. "He was about right up on me, about ready to grab me."
Grant said she had felt safe in her hometown of Columbus, Indiana until that point.
"You wouldn't think you'd be attacked [in the] middle of the day, right outside a CVS, or at least I didn't because I've always felt pretty safe in my town," says Grant. "It wasn't like one of those really scary, sketchy neighborhoods even. It was smack-dab in the middle of town."
This wouldn't be the only time Grant was nearly attacked. The second time, she used a technique she learned in a self-defense class to get out of a wrist grab and fend off a second attack. It left her attacker shocked, giving her the chance to get away.
"I'm always really on edge. It doesn't matter if I'm in a group or alone," said Grant. "I always have one hand on my mace or one hand on my keys or just looking around. If I hear a noise, I look towards it. I never have earphones in.
According to whitehouse.gov, women are less likely to be victims of crime than men. However, women are more likely to be victims of stalking, sexual assault and intimate partner violence.
The Ball State University Campus Security Report showed that in 2013 there were 17 forcible sex offenses, three aggravated assaults, two instances of robbery and 13 instances of burglary.
Robbery and burglary are commonly mistaken as the same crime. Robbery is theft that uses force, intimidation, or threat, and the victim must be present. Burglary is theft that occurs after a perpetrator enters a building or structure unlawfully, and the victim does not have to be present.
Ball State has lower crime rates than some Indiana schools such as Indiana University Bloomington, except for incidents of forcible sex offenses and robbery.
"Most crimes, such as theft, are gender-neutral," said Joan Todd, Executive Director of Public Relations for Ball State University during email correspondence.
The security of campus is a top priority, she said. "Ball State prides itself on having a low crime rate."
According to IU Bloomington's 2014 Campus Security Report, in 2013 there were 15 forcible sex offenses, 9 aggravated assaults, zero instances of robbery and 57 instances of burglary on campus.
Ball State has higher rates of certain crimes such as forcible sex offenses, aggravated assault and robbery compared to some schools, such as Notre Dame. According to Notre Dame's 2014 Campus Security Report, in 2013 there were 15 forcible sex offenses, one aggravated assault, zero instances of robbery and 13 instances of burglary on campus.
The 2013 Purdue West Lafayette Campus Security Report shows there were two forcible sex offenses, six aggravated assaults, five instances of robbery and 13 instances of burglary on campus in 2012.
"You don't think it's a big deal," said Grant. "But if you're not aware of your surroundings, anything can happen."
The university encourages students to use common sense, to stay alert when on campus and to take advantage of security measures offered. These include public safety announcements, emergency blue light phones and the University Police who patrol campus at all times.
"A lot of the paths need to be more lighted," said Kiah Beeman, a freshmen deaf education major. "Charlie's Charter needs to run on Saturdays. That's insane to know that you have to park at the stadium and then you have to get back to your dorm somehow, but the shuttles aren't running and Charlie's Charter isn't running, so what are you going to do?"
Charlie's Charter is a free transportation service for students when they feel unsafe. Although it doesn't run on Saturdays, parking restrictions are not enforced on weekends, so students can park their cars on campus during weekends without penalty.
The lingering threat of danger can be worrisome for students if they are forced to walk at night by themselves.
"I feel like girls are the most easily victimized," said sophomore nursing major Cory Coffey.
Every two minutes someone in the United States is sexually assaulted, according to the Ball State website. In the U.S. alone, one in six women has been the victim of attempted or completed rape, along with one in 33 men.
"Even if it doesn't make sense to me, even if I feel like I'm not attracting attention and there's no need for it, I need to assume that people could try to sexually assault me or physically assault me," said senior Japanese education major Richelle Moore.
Sexual assault is usually underreported according to Ball State's website, with 60 percent of incidents not being reported to the police.
Students are generally aware of the basic resources available to them on campus, however, some students seem to question the effectiveness of the blue light emergency phones.
"In actuality, if you're being attacked you're not going to have time to run all the way over to one and press the button," said Coffey. "You'd just pull out your phone and call."
The police treat each blue light call as a normal 911 emergency and respond as soon as possible.
Lieutenant Craig Munroe of the IU Bloomington police force said, "if you're intimidated, you're not going to go outside."
Munroe said that binge drinking is what generally leads to individuals finding themselves in troubling situations, not only in possible legal consequences but also in regards to safety.
"Don't binge drink. That's when you're going to get in trouble," said Munroe. "If you go out and start binge drinking, you can't take care of yourself."
Carrying pepper spray and holding keys with a clenched fist is a common safety precaution among women, based off of those who were interviewed.
Another way students can prepare themselves to remain safe is by wearing clothing and shoes that will allow for a quick and fast escape if necessary.
"I usually take different paths, and I think it's beneficial to do that because if you take the same path and someone's watching you take that path over and over again, they can kind of pinpoint where you're going to go," said Leslie Thomas, a sophomore communications studies major.
Thomas said he often does this after a late shift at work when he is the only one around on campus.
"Sometimes it feels intimidating and sometimes it feels a little sketchy, but overall I think I feel pretty safe," he said. "There's probably campuses that wish they had that type of protection."
Other precautions students can take are planning exactly how they will get home, with whom they will walk, what time they plan on returning, and notifying someone else of these details.
"I can see why other people would not feel safe," said Cory Coffey, a sophomore nursing major. "It's decently safe, but there could be improvements."
There are multiple security measures to help students feel safe, but crime can happen anywhere, at anytime without a reason