It's been a long winter, and spring could not have come soon enough. Spring fashion trends are filled with bright colors and mix-matched patterns that are definitely going to brighten up this campus. According to Vogue's fashion guide for spring 2014, there is a fashion for every personality this season, so make a statement by trying some of these bold styles.
"Why fit in when you were born to stand out?"
-Dr. Seuss
For Women:
1. Dresses with Sneakers
Forget your uncomfortable heels. According to Seventeen Magazine, sneakers are the new comfortable accessory to rock a cute dress. It's like the heavens heard our request to no longer walk around campus in heels. A dress with sneakers is the perfect way to be comfortable and still look cute.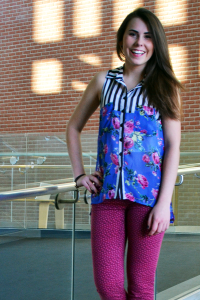 2. Mix and Match Patterns and Bold Colors
After a long freezing winter, it's time to brighten up your wardrobe with bold colors and patterns. Mix-matching patterns is a creative way to stand out on campus, but it can be a little tricky to pull off. Here are some tips for pulling it off.
Repeat colors. Try to incorporate colors from the same color family in your patterns.
Contrasting the size of your patterns by pairing a larger print with a smaller print works. The two prints don't compete with each other.
Spread out your prints. Try separating smaller prints on accessories like shoes and handbags, and mixing them with solid neutrals.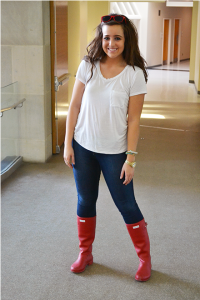 3. Spring Accessories
No more winter hats and gloves- this season's accessories are bold and bright. Floral crowns and statement jewelry will accentuate any outfit. Show off your style through these accessories:
Wing-tipped sunglasses
Turquoise jewelry
Colorful clutches
Bright rain boots
Wedged sneakers
For Guys: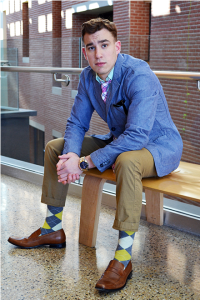 1. Ties and Socks
Ties and socks are essential guy's accessories. But dudes aren't just wearing the plain ole' black tie. This spring is forecasting lots of colors and patterns for both men's socks and ties. Guys are contrasting their ties and socks with some of these new, yet classic patterns and textures. Pin dots, cloth ties, argyles and bright solids are common. And us ladies…we like it.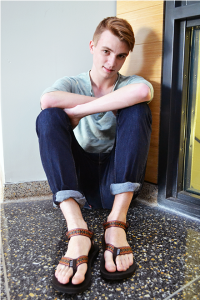 Thom Browne Leather Chukka Boots
Massimo Dutti Suede Blucher
Gray Suede Brogues
Ferragamo Cap Tee Derby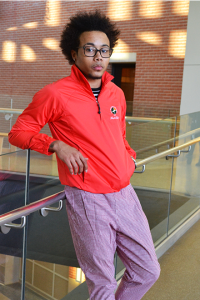 3. Mix and Match Patterns and Bold Colors  
Girls aren't the only ones mixing and matching their spring style. Guy's fashion will be bold and filled with patterns. Some tips for mixing and matching guy's clothes are
Layer patterns
Choose bold accessories: watches, French cufflinks, messenger bags
Wear solid shoes