Ball State Men's Basketball Coach Driven for Success
As the vision to make improvements in Ball State Athletics continues to evolve, a new head coach is brought into the mix. Introduced as the nineteenth head basketball coach in program history on April 10, 2013, James Whitford plans to create the excitement to get basketball fans back in the building.
Growing up, he loved the game of basketball and played until he graduated from high school. The thoughts of playing at the collegiate level crossed his mind, but if pursued would have been at a small school. Leaving that dream behind, Whitford decided to follow in his family's footsteps and attend the University of Wisconsin-Madison. While attending Wisconsin, Whitford found himself missing the game he loved so much. His high school principal reached out to a staff member at Wisconsin and was able to help Whitford obtain a student manager position on the men's basketball team.
"I found my purpose and passion in life, and I found something I love doing. I missed it badly and really from that moment on I wanted to coach."
Whitford went on to Miami of Ohio University after graduating from Wisconsin. As a graduate assistant for the program, he got a master's in sport performance and behavior and was hired as an assistant coach for the men's basketball program.
Whitford spent 11 seasons with Miami before making his way to Xavier University where he coached four seasons. He spent his past four seasons at The University of Arizona-Tucson and after two seasons, was promoted to associate head coach.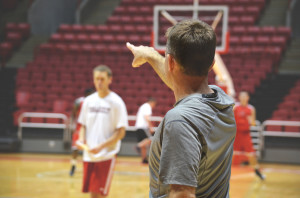 Many schools were offering Whitford a coaching position, but he chose Ball State. Whitford explains that in looking for a school it didn't have to have a perfect team, it just needed the fundamentals in place. And if he did his job, they could win.  He looked into how the academics here speak for themselves, and having a beautiful campus will attract good students to come. One key factor that stood out for Whitford was "we have a passionate fan base."
Whitford's familiarity with the Mid-American Conference helps make things easier to prepare for the upcoming season. He has recruited in this area for a long time and
believes it will help strengthen the program. What he likes about this school is it's centrally located to cities like Indianapolis, Ft. Wayne, and not far from the Gary-Chicago area, which is known for great recruiting. He emphasizes that Indiana high school basketball is among the best in the country and feels they can recruit a lot players from what they call their "bread-basket."
His vision to reform the program involves some of the concepts and principles he strongly believes in from his previous program. He looks to mold a program that will fit his team by what the staff calls "their process." Through recruiting, preparing, and practicing, a successful season will soon follow.
To increase attendance, he says it is important to get out in the community. Whitford wants to make sure that the people get to know and connect with him and his players.
"They want to be a fan of a team that they feel is a great part of the community."
He says the Indiana Pacers do a great job of community involvement in Indianapolis and Ball State needs to do the same in Muncie. He plans to go to residence halls and Greek organizations to talk to students to get them motivated. He believes by putting a great product on the floor, they will see a great rise in attendance.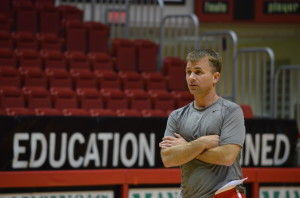 The biggest goal for them is to bring an exciting performance each time.
Whitford strongly emphasizes that his players are students first. Being a student and an athlete go hand in hand and his players are aware of it. The team this summer had an overall GPA of a 3.0. His players understand they must be able work hard on the court as well in the classroom. There are five seniors this year on the team he says that are all on pace to graduate this year in May.
"Our goal is to go 5 for 5 and I think we're going to do that," Whitford says.
The possibility of seeing a future NCAA tournament appearance anytime soon is unpredictable, but Whitford certainly has it on his mind. Every time he looks at the banners hanging in Worthen Arena, there's a constant reminder of his drive to succeed. Whitford believes by following his approach and all aspects of his program "we're going to hang that banner."