It's mid-afternoon on a Thursday, a common time for Grand Central Station to be a bustle of busy people. Visitors quickly glide across the floor with totes and small children in hand, rushing to their shuttle or finding their final destination in Midtown Manhattan. Locals greet family and friends at the end of the stairs with a tight squeeze of excitement, while confused travelers point up to the terminal schedules to find their shuttles and grab their tickets from the vending machines.
A bystander would notice that most people are too busy finding their gate or keeping their group together to admire their surroundings. But as the afternoon sun stretches across, lighting up the terminal and making the decorated golden pillars stretching up to the teal blue ceilings glisten, Yasameen Thaer stands in awe at the top of the balcony.  The feeling of excitement overwhelms her as she watches the busy people below her, making her forget how tired she is from her thirteen-hour flight and two-and-a-half-hour bus ride.  The feeling of hunger, tiredness and dizziness of constant traveling slowly fades away as her eyes gaze above her and admire the large American flag laying with pride from the station walls. She was finally in America.
She had tried multiple times, three to be exact, to come to America.  She yearned an experience that let her see her world from a different perspective. She wanted to meet new people – people from a different culture – and expand her horizons that usually didn't leave the city of Baghdad. But now, she stood in one of the national landmarks of the United States, in one of the most well-known cities in the world.  
Yasameen stood there for a minute, or maybe multiple minutes, in astonishment with 24 Iraqi students who were just beginning their five week trip in small town Muncie, Indiana. The group is part of the 2015 Iraqi Young Leaders Exchange Program (IYLEP), a program that brings Iraqi students from multiple areas of the nation out of their element for the first time to explore democracy and leadership development in the United States. Ball State University is one of the four universities that hosts students in this program each year.
IYLEP is a selective program offered through the Department of State, which sorts through thousands of applications each year with partners Meridian International, a non-profit organization working to "promote global leadership and exchange of people, ideas and cultures," and the administrative director at the corresponding colleges. Of those applications, only a hundred Iraqi students are chosen. The process for applying students is several months long and requires students to prove their collegiate successes and humanitarian efforts in their communities back home. Students who spend their time at Ball State focus on social entrepreneurship and community development.
But the program is not only for Iraqi students to get a taste of American life.  The program hopes to create relationships with a country in times of war. Since the early 1990s, the United States and Iraq have dealt with conflicted relations. Especially after the attacks on 9/11 and the claimed "War on Terror," the military campaign that sends U.S. troops into the center of Iraqi conflict, several students like Yasameen never imagined stepping foot in a nation that saw them as an enemy.  Nick Sabato, Director of Operations in the Center for International Development at Ball State, said that the program is a good resemblance of what the U.S. and Iraq are doing to improve their relations.
"Programs like IYLEP take on an increased role in times such as these when the region is marred with negative media coverage," Nick said. "The Ball State and Muncie community welcomes these students with open arms, hearts and minds.  Our community learns more about Iraqi culture, traditions and creates a lasting relationship of shared understanding that goes far deeper than any media story can provide. In turn, our Iraqi guests also begin to understand and recognize that Americans are overwhelmingly more sincere, modest and welcoming than the prevailing stereotype would portray."
And there Yasameen was, full of anticipation to begin.
"Five years ago I would be watching all these Hollywood movies about different places in America, and I never thought that one day I would really be there," she said. "All the places in the movies, I could see in real life."
As the students walked around New York City, they thought of the opportunities ahead of them. They came to the U.S. eager to experience all the wonders of American culture. They would be celebrating their first Independence Day in the Big Apple, visiting big cities full of tall buildings. They heard rumors of visiting Chicago and wondered what their first slices of deep dish Chicago-style pizza would taste like.
Yasameen and a few others admired the Brooklyn Bridge, taking photos every step they made.
"It was ridiculous," Yasameen said, "but I would do [it] again in a heartbeat if I could."
Walking through the busy streets of the city excited many students, especially 24-year-old Thamer Alyas. The sociology student from Duhok, the capital of Iraqi Kurdistan, found himself smiling ear to ear and gazing up as he saw Times Square for the first time.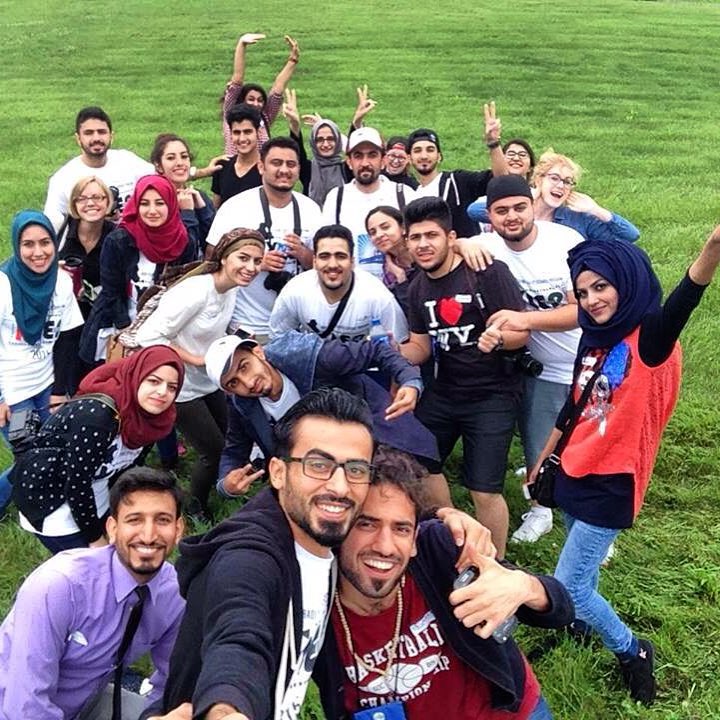 This would be the first time in months that he would be distracted from his life back home, his humanitarian efforts and the struggles that were a reality to him. Most of his adult life revolved around being the executive director for Humanity, a non-governmental organization focusing on assisting refugees escape the Islamic State and come back to their homes. Many of the individuals Thamer worked with on a daily basis were young women who, after going through months of sexual assault and abuse, came home to their families and homes vanquished.
"When we liberate the girls, they come to us with only the clothes on their backs," Thamer said. "The girls come home only to find out most of their families had been killed and their homes are gone."
This is the harsh reality that many of the IYLEP students can account to first-hand.  Many of the Iraqi students found their homes and neighborhoods taken away by the Islamic State. Many of them turned to refugee camps, some after losing moms, dads, sometimes even cousins right in front of them. For most of their lives, students lived in fear of car bombs, explosions or merciless shootings. Their lives revolved around survival, and fear.
But in America, they were safe for five weeks. They could walk around campus or around the cities of New York and Chicago together without worrying about checkpoints, guns in their faces, and living in constant fear of being the next victim of terrorism. Instead, the students boarded a plane to Indianapolis and hopped on a bus to lead them to their destination in Muncie, and gazed upon the little things that go unnoticed in America every day. Every blade of green grass, every corn field and farm pasture they passed was a new experience, and they couldn't help but fawn over the beauty of a beautiful, rain-filled Indiana summer that was so much different from the dry, desert lands of their home.
The minute Hanna DeLaGardelle, the IYLEP Administrative Coordinator for Ball State, met her Iraqi students, she admired this about them. She noticed how quickly they admired the nature and quiet campus environment. They passed the dilapidated LaFollette Complex, and pulled out their smart phones and large digital cameras as they snapped selfies in front of the Ball State sign. "I appreciated their joy for things I take for granted on a daily basis," Hanna said.
The culture shock of the differences of America – the cultures and lifestyles they were only beginning to understand – was an eye-opening experience for the coordinator and their American mentors. Thamer begged his mentors to take him to a Burger King so he could try his first "American" hamburger, and the students were shocked at the large portions on the menu. Yasameen stared at a couple nearby sharing a burger, fries and shake with concern.
"A burger with shakes!?" she said. "Americans eat burgers with shakes? Why!? That's so heavy!"
Surrounded by Americans, she wondered why they laughed at her comment about what seemed to be a strange combination for the Iraqi girl. Yasameen would go on to try this popular American meal later on a trip to Washington, D.C., but couldn't finish it.
"We usually eat a burger with a Coke," she said. "I'll stick with the Coke."
The students moved into their dorms at Studebaker East, got to know their fellow roommates and got a taste for Ball State. They would get to know their Iraqi and American mentors who would be living with them for the next few weeks. Their schedules consisted of an average student's work day in their major, community outreach and volunteering. Students in the IYLEP program also worked on projects to help their communities. Students like Thamer could work on their ongoing organizations to spread awareness to other areas and countries.
But Yasameen, an engineering major, could focus on an action plan for her passion: creating prosthetic limbs using 3D printing. She only knew the basics after buying a kit herself, wanting to understand the process and what 3D printing actually is. After days passing amputee beggars on the way to her university classes, she wanted to help the victims gain something they never thought they would get back.
"Right now our government is going through a lot of things, and many people are left uncared for. Car bombs and explosions happen to innocent people," she said, "and the ones that get out alive are left losing something they can never get back. The thought of it saddens me so much."
Their experience away from their homes helped them focus on why they want to make their home a better place. Nick Sabato said that the culture of Muncie also helped with the program when it came to letting the students focus on why they were here.
"Muncie continues to gain recognition for providing an exceptionally welcoming community for our international visitors," Nick said. "As we know, the Midwestern sense of hospitality is ingrained in the Muncie community and the university and community leaders have done a wonderful job of providing a safe, welcoming environment for the students.  The Iraqi students overwhelmingly note their appreciation for Muncie's slower pace of life and their ability to focus on the program and developing a deeper understanding of community and its members."
The students would, for the first time, be not only meeting Americans but also Iraqis from other sectors of Iraq. The sectarian affiliation has been prominent in Iraqi politics for hundreds of years, meaning that Kurdish Iraqis were in the same quarters as Arabic Iraqis. Some had different beliefs in lifestyles, some didn't even speak the same native language. Over the next five weeks, Sunni Muslims, Shia Muslims, Kurds Yezidis, and more found a safe place to discuss their worlds colliding without worrying about the interference of the Islamic State.
But sometimes, the contrasting beliefs and lifestyles between the students led to difficult conversations for them to have with each other. One afternoon, Hanna came back to meet up with the students after printing off documents and found them having a heated discussion concerning community development. The students discussed ways to control conflict within the different sectors of Iraq that they called home, but were disagreeing with each other. Many students were distraught and tension filled the air during the intense conversation. While the arguments only lasted a few minutes, it made some students start to feel uncomfortable, finding the conversation overwhelming to think about. A select few asked to leave the classroom, not wanting to cry in front of their peers.
With the Sunni and Shiite divide in Iraq, richer cities and poorer cities getting different treatment from Islamic State and other political issues, students have many concerns and opinions that differ from Iraqi students from different areas. The discussion caused uproar around the students, who started bringing in arguments about politics and how their communities differed.
With the help of Dr. Terry Whitt Bailey, the Director of Community Development for the city of Muncie leading discussions that day, the students resolved the conflicts on their own. Calming the students down, Terry brought the few students back into the classroom. They huddled together, having a civil conversation refocusing the subject on how they could work together to create development in their respectable sectors. The students shared hugs with each other before going their separate ways to lunch.
The group had many personal moments like this with each other during their five-week stay in the program. The students also became very close to their student mentors. Lydia Newland and Maddy Vaughn, both senior education majors at Ball State, lived in the dorms with the girl students. They became very close with Yasameen, who spent a majority of her time with the girls. Maddy also became very close with Thamer, who was one of her favorite students.
"I felt so close to all of them, but there is definitely some students I got to know better," Maddy said. When Maddy first met Thamer walking out of the Indianapolis airport, she saw a tough guy, but soon got to know Thamer. "The way he carried himself was so strong and very much like a leader, and I could tell he was so passionate for what he stood for and why he was here. On the inside, though, he was very much like a big teddy bear."
Rather than teach them American life, they focused on letting the students teach them about their country. Ramadan, a period of giving and prayer for practicing Muslims, occurred during their time in America. During this time many fast, but the students made it a point to share meals with their mentors instead. The Iraqi students were astonished at how early Americans ate, joking about whether to call 6 o'clock lunch or dinner. Three in the morning was an average dinner meal time for the students, who stood over the multiple stoves and made extravagant meals for themselves and the girls. Large portions of egg dishes with tomato, rice, and pieces of lamb scattered in bowls and paper plates on the floor. Meals were to be eaten with only their fingers and not utensils. Special sauces and bread were prepared for the feast on the floor. Special teas from a spice market in Iraq were brought out to share with Maddy and Lydia, which the students insisted they drank.
The group, like a little family, sat on the kitchen floor and enjoyed each other's company. The male students sang and danced as the girls ate their meals, and the female students showed Lydia how to wear a hijab. Thamer taught the girls different Arabic words from the group and would constantly laugh and smile at them struggling to speak a language that was so familiar to the students. The mentors appreciated the Iraqi students' humor and appreciation for life, and their compassion for their new friends.
But the conversations among the students were not always lively and full of excitement. Between the pictures, sharing food, and conversations, many people heard first-person accounts of students' lives back at home. After the dispute in class, Hanna was eating with student Osama Faiadh, a student from the Al Anbar Governorate. He decided, like many students who were overwhelmed and moved by the discussion, to open up about his perspectives. Osama is one of the many families in the Anbar province who were displaced from their homes due to Islamic State occupation.
Osama began to tell Hanna his story- how he and his family traveled through the desert to Baghdad to find refuge, arriving only to be turned away by security and border control. He described the danger that he went through in detail, becoming overwhelmed. As he told the story he began to grow louder, recalling the events yet in frustration.  Soon his cries and shouts were heard throughout the Student Center, and Hanna could feel people begin to stare. She began to calm down the student, and showing him compassion and understanding. Although he could escape his fear for five weeks, the past events would stick with him for a lifetime.
Sharing these personal accounts was hard for the mentors and Hanna to hear, but necessary.
"Watching the media portray the Middle East can be both frightening and unnerving," Hanna said. "When I finally had the chance to meet the Iraqi students, I was given the opportunity to hear their stories and learn about the reality. They completely changed my views about Muslims, Islam, and Iraq. I enjoyed having meaningful conversations about their personal beliefs, dreams, and experiences. We continue to communicate via social media and it's incredible to see how their time at Ball State has shaped their current endeavors."
Yasameen also opened up to Lydia about her hardships at home. After her second time trying to enter the IYLEP program and getting denied, she almost didn't try a third. The usually light-hearted girl, smiling and radiating positivity around her dealt with an emotional two year period, where at times she became overwhelmed with sadness. She and her immediate family were terrorized into leaving their homes for a period of time, and copes with losing her mother and grandmother within two months of each other. Right before leaving for the program, Yasameen was entering her finals week at her university when she received a call that a friend close to her had died as well.
"I couldn't help but think that life just wasn't working on my side," she shared, "and I felt everything closing at me. I wasn't able to fix anything or do anything. I hate the word depressed, because although I was sad I kept pushing through living and having a good time. Because my loved ones would want me to."
Lydia brought Yasameen to Christy Woods one afternoon to light a candle for the loved ones and friends she had lost, and Yasameen shared her story with Lydia.
"It broke my heart," Lydia said. "She told me she was so glad she came to the program and met me, and I'm just glad I was able to help her talk about everything that was going on in her life."
The Iraqi students didn't mind opening up to the mentors, though, because, Hanna said, that's what they needed to do.
"They are here to enjoy American life, but they're also here to tell Americans that they are not bad people," she said.
They made close relationships, realizing that their time in America would soon be over. The students' special VISAs would only allow their time in the U.S. to be short, and they could not come back for another two years. On the last day of the trip, the mentors who didn't want to part with the students exchanged tearful goodbyes. Even Hanna, who had promised herself to remain professional, began to tear up in her car as she followed the bus to the airport.
Seeing her mentors and new friends share such a personal story with her was the hardest part of Yasameen's departure. Walking back through the Grand Central Station terminal, a place that she once thought was so beautiful and full of opportunity, was now so somber. Her bags felt full and heavy as she walked to the terminal that would eventually lead her back to Baghdad.  She knew her chance at revisiting would be slim, but she hoped an opportunity would bring her to the states again. Social media allowed her to connect with her new friends, making it possible to keep their friendship over the thousands of miles between them.
But fortunately for Thamer, he got another shot. After hearing him speak at a conference about Humanity Inc, the Department of State was impressed with Thamer's organization. He was then asked a month and a half later to speak in front of the United Nations in New York about Islamic State and their treatment of the women he works with.
Yasameen and the other students were extremely happy when they heard their new colleague and friend was coming back to the States. Her life has returned to normal in Baghdad. Spending her days attending university classes with her brother and working on her 3D printing initiative, she uses her experience as a tool. A tool that, with help from a few of her friends at her university, will help those who lost once feel whole again.
She hopes, though, that one day she can experience America like Thamer did once more and see the same people that impacted her life during her stay. To enjoy a Muncie summer kayaking and biking with Lydia and Maddy. Maybe even to experience a milkshake and burger, too.