New male birth control will give men more control over preventing pregnancy
Does it seem safer to wear a bulletproof vest and hope it protects you, or to unload the gun before anyone gets shot?
Put another way, is the best option for birth control using barrier methods and procedures that decrease fertility, or stopping sperm from even having the chance to fertilize an egg?
A revolutionary birth control for men is expected to be on the market between 2016 and 2017, according to the Parsemus Foundation, a non-profit that works to advance neglected medical research.
Vasalgel, a non-hormonal form of male birth control would be administered in a single treatment by injecting a polymer into the vas deferens, the tubes that connect the testicles to the urethra. This polymer works by blocking sperm from passing through the tube while other fluids flow through.
A single treatment is expected to be as effective as a vasectomy, and could last for several years. This treatment is reversible by a second injection that removes the polymer.
The question is—would men be willing to try this new type of birth control? The only forms of contraception that give men control of preventing pregnancy are withdrawal, condoms, spermicide and a vasectomy. Women have a variety of options to choose from such as female condoms, birth control pills and intrauterine devices. It goes without saying; the introduction of this male contraceptive levels the playing field for males and females.
Vasalgel is based on a similar polymer called Reversible Inhibition of Sperm under Guidance (RISUG), created by Dr. Sujoy Guha more than 15 years ago in India. Although this polymer is still being tested, it is being developed in the United States in correlation with Federal Drug Administration (FDA) standards.
"I would need to see a lot of research that would support how effective it is," Nile Brandt, a graduate assistant for the Health Education Department said. "It would have to be pretty conclusive."
Brandt said that he would be curious as to what sort of "down time" would be required after the injection, if any, since a vasectomy requires a recovery period.
Dena Mullins, an instructor in the physiology and health science department, believes there would most likely be less recovery time because it would not be as invasive as a vasectomy.
"If this comes to market, I could see it eventually replacing vasectomy if it's effective enough," Mullins said.
However, Mullins believes it will not become more popular than vasectomy for many years. She said the public would most likely be wary to try it until it has been available for a while.
Vasalgel trials in baboons have proved to be effective, according to a 2014 Vasalgel update from the Parsemus Foundation. The trials injected three male baboons with Vasalgel and then put each one in a separate enclosure with 10-15 female baboons each, and no pregnancies resulted.
The Centers for Disease Control state that in 2006, 49 percent of all pregnancies in the United States were unintended. The highest rate of unintended pregnancies occurs in teens less than 15 years old, with 98 percent of pregnancies being accidental.
Still, initial opinions of the developing procedure seem optimistic, but skeptical.
"I think it would be fabulous if there was something else for a man to use, especially in a committed relationship," Mullins said.
"I'd be okay with it," Noah Rashid, a junior animation major said. "You're kind of dealing with the problem at the source."
"The way of administering it seems kind of sketchy," Chris Joy, a sophomore criminal justice major said. "I kind of wish it would be more like a pill, like female birth control."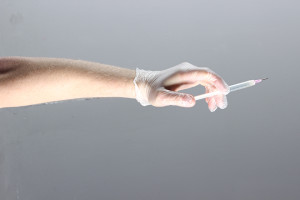 "It sounds like it could be really helpful, especially since condoms aren't 100 percent effective," Rashid said.
Based on the birth control currently available, women have more options than men. Vasalgel would provide men with the opportunity to use a long-lasting, more effective method. This would give men more control over their futures and allow them to abstain from having children, without the commitment of sterilization.
BIRTH CONTROL 
Barrier methods:
Male condom: With perfect use-two out of 100 women will become pregnant each year. With typical use, 15 out of 100 women will become pregnant each year. A condom is typically made of latex and fits over an erect penis and prevents sperm from escaping.
Female condom: perfect use-five out of 100 will become pregnant. Typical use- 21 out of 100. A female condom is similar to a male condom, except it is shaped more like a pouch and has a soft ring at each end. The condom is inserted into the vagina with one ring covering the cervix and the larger ring on the outside covering parts of the labia.
Diaphragm: perfect use-six out of 100. Typical-16 out of 100. A diaphragm is dome-shaped, made of rubber and fits over the cervix. Spermicide should be placed inside the indented side that touches the cervix.
Cervical cap: typical use-14-29 out of 100, depending on if the woman has given birth in the past. Having given birth makes this method less effective. A cervical cap is a small silicone, cup-shaped cap that suctions onto the cervix, and should be used with spermicide.
Sponge: perfect-nine-20 out of 100. Typial-16-32 out of 100. The higher numbers are for women who have previously given birth. A contraceptive sponge is a soft, spongy circle that contains spermicide and touches the cervix.
Spermicide: perfect- 18 out of 100. Typical- 29 out of 100. Spermicides are available in foams, jellies, creams, films and suppositories. They kill sperm with the chemical Non-oxynol-9.
Hormonal methods:
Birth control pill (combined/mini): perfect- less than one in 100. Typical- eight in 100. "The pill" is taken once a day, at the same time. Different brands allow women to choose if they wish to have their period every month, every three months, or less frequently than that.
Patch: perfect- less than one in 100. Typical-eight in 100. The contraceptive patch is a square that sticks onto the abdomen, buttocks, upper arm or upper torso. It is changed once a week for three weeks, not worn for one week, and then replaced. The process is repeated.
Vaginal ring: perfect- less than one in 100. Typical- nine in 100. The vaginal ring is a thin, flexible ring inserted into the vagina. It is left in place for three weeks and then removed for one week. The process is repeated.
Depo-Provera: perfect- less than one in 100. Typical- three in 100. Depo-Provera is an injection of progestin and prevents pregnancy for three months.
Long-acting methods:
Implanon: less than one in 100. Implanon is a small capsule filled with progestin that is inserted under the skin in a woman's upper arm.
Intrauterine devices (IUDs): less than one in 100 will become pregnant in one year. IUDs are small, plastic devices that are placed inside the uterus by a doctor.
Nonmedical methods:
Withdrawal: perfect- four in 100. Typical- 27 in 100. Sometimes referred to as "pulling out," when the penis is removed before ejaculation occurs so that ejaculation does not occur in the vagina.
Fertility Awareness: perfect- three to five women in 100. Typical- 12 to 25 women in 100. Through months of observation, a woman is able to detect when she is most fertile, and chooses to only have sex when she is not ovulating, or to use another method of birth control when she is fertile.
Permanent methods/Sterilization:
Tubal ligation: less than one in 100 women. Tubal ligation is the surgical sterilization to close the fallopian tubes.
Essure: less than one in 100 women. A method of sterilization in which a spring is inserted into each fallopian tube.
Adiana: less than one in 100 women. A silicon implant is placed inside the fallopian tubes and is effective after three months.
Vasectomy: less than one in 100 women. A method of sterilization that involves minor surgery to cut the vas deferens to stop sperm from being ejaculated.