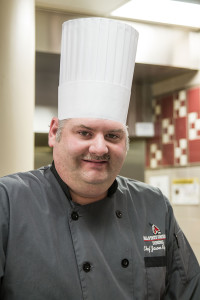 I have worked at Ball State for 16 years. I started in Lafollette Square dining as the chef in 1998. From there, I opened the Atrium in 2001, and then came over to the newly remodeled Student Center in 2009. I have a Chef Station that I prepare meals to order every day from 11 a.m. to 1:30 p.m. I love working at Ball State because of my flexibility with designing menus, the camaraderie with the students, faculty, and staff and also being able to be with my family in the evenings and on the weekends. I worked for a hotel and a country club before coming to Ball State, which were fun, and I gained a lot of experience with the chefs I worked with, but I have had the most fun here.
The flexibility with the menus is fun because I can try different flavor profiles and put dishes together that a lot of people haven't tried. I do a lot of testing of recipes in the summer and get to prepare them for orientation to see if they are liked or not. Some of the ingredients we have to call to see if we can get because of the limited access or seasonality of them. It is fun getting new ingredients in to play around with. On Wednesdays, I prepare an international dish that corresponds with the country presented at the culture exchange series by the Rinker Center. On Fridays, I prepare specialty pizza or specialty mac & cheese using ingredients that are unusual and not found on pizza or in mac & cheese. Customers enjoy them because they are different from ordinary pizzas or mac & cheese.
I love having fun with food and preparing dishes that the flavors flow together on the plate.
The seafood we use comes from a company, Sea to Table. They work with fishermen on the coasts that catch the seafood. It is wild caught, not farm raised. I get it within two days of being caught so it is still fresh. Customers love the Chef Station because they can get a different meal every day that is full of flavor and is delicious. As you can see by the recipes, they are a little different than the ordinary meat and potatoes you usually see in the Midwest.
I have worked for some great chefs learning ways to enhance dishes and flavor profiles that make dishes pop in your mouth when eating it. I graduated from culinary school in 1994 and am currently finishing my Bachelors here at Ball State. I am always learning everyday about foods, cuisines and trends to keep my skills and knowledge up-to-date.