Before coming to America, Millie Gibson was shy and didn't have many friends back home in England. Even after arriving, she spent a few weeks feeling isolated because she was nervous about meeting people. The fact that she also had a bad roommate experience at the beginning of the year didn't help her feel welcome.
Gibson now has friends from Finland, Scotland, Spain, and the United States. It took finding a new roommate and a different group of friends to help her feel accepted.
"I went to stay with a friend for Thanksgiving and I realized, 'actually, no, I'm having a really good time so maybe I should try to stay,'" Gibson said.
She had planned on attending Ball State only for the fall semester originally, but when she realized she wasn't ready to leave as originally planned, she decided to extend her stay in the United States.
"Once I realized I am having a good time and this is a once-in-lifetime opportunity, maybe I should try and extend this opportunity," Gibson said. "I got the ball rolling."
After she contacted her university in England and filled out the paperwork, she received permission to stay until May 2015.
Gibson is one of over 1,000 international students studying at Ball State. She, like other students, had to find her place in American culture.
Culture shock often impacts international students as they transition into American life. These students have to adjust to a different academic setting, encounter language barriers and may find interactions with Americans different than what they experience at home.
"They have to adjust to a different culture," said Imara Dawson, executive director of the Rinker Center for International Programs. "Americans tend to be a lot more open in terms of how we greet people and interact with people."
Moon Seung Yeon vividly remembers when he came to America. The first day of January was freezing, unlike the temperatures he was used to in South Korea. His first impression of the United States was how open and friendly people are.
"In Asian country we never, ever say hi to strangers," he said.
Getting used to American classes can be a hard transition as well. Seung Yeon said it does take extra work to keep up in classes. Calculations are easy, he said, but taking classes like history where a lot of reading is required can be difficult. What takes an hour for American students to read might take him a full day.
"When professor gives us a lecture I can pick up most of it. But when I hear two native speakers who are speaking to each other, the rate that I can pick up goes dramatically down," he said. "I don't know why."
Even though Seung Yeon isn't planning on coming back to America after he gets his degree in international business this spring, he's enjoyed his four years here.
"My point of view of the world has been expanded. For my major, this kind of experience and perspective is important," Seung Yeon said.
A whole new world
Chao Wong stepped on American soil for the first time four years ago with every intention of returning to China with her degree. Now, with one year remaining before graduation, Wong wants to stay and get a job in the United States.
"I feel like I have more options. Like more opportunity to do what I want to do and I feel like it's more freedom. Back home, my family, my parents, kind of helped me decide some things, like what is best for me," she said.
Wong is staying a year longer at Ball State than she had originally planned because she participated in the Intensive English Program and decided to double major in painting and advertising.
In addition to being accepted by Ball State, international students have to prove they know English and can pay the tuition fees, although financial limitations don't seem to be a major factor in international students deciding to go home, Dawson said. They also have to file immigration paperwork and apply for visas.
Sometimes international students have to leave before they initially intended. Dawson said this could be because some students aren't able to communicate in English well or because students coming here may have different expectations and realized Ball State wasn't a good fit for them.
"International students add to the tapestry and mosaic richness of Ball State University," Dawson said. "My hope is to continue to bring more students here, but do it in a way that's more strategic and more focused in making sure that these students get a real value in respect to their education."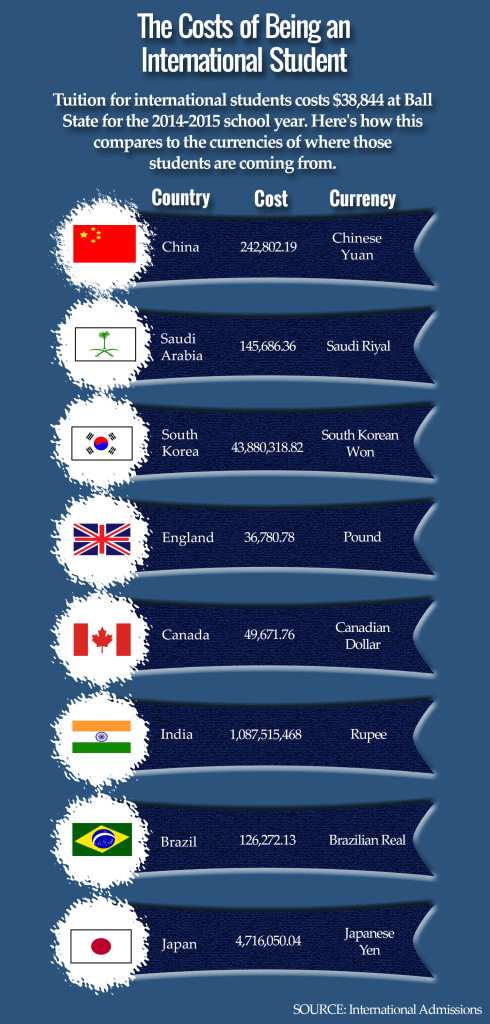 Stay Extended
One week before Ball State welcomes students on campus, international students arrive to go through orientation. Their knowledge of English is also evaluated during this time.
Once here, some international students decide to stay longer because they are enjoying their time, want to continue into job training or graduate school, or because they hope to get a job.
Gibson is glad she was able to stay an extra semester since she hopes to get a job working in a United States police department. But she said maintaining a balance between staying in contact with family back home and having a good time here can be difficult.
When she has time in the evenings to speak with her parents, they're already sleeping. She isn't able to afford going home to visit her parents either, so she hasn't seen her parents since late summer. That's been especially hard, considering they've both been in the hospital. But Gibson says the distance hasn't fractured their relationship.
"If anything, it's made my relationship with my parents stronger," she said. "One of the things I realized over here is that I never told my parents enough how much I love them."
Gibson only has six weeks left in her stay and isn't looking forward to going back to England because she won't be living the "wonderful life" she's experiencing now.
"Every day something new happens to me. I'm just like, I wouldn't have this experience if I was back in England," she said. "I'm really grateful that I was able to stay."