There is no rocket science formula to determine whether it's a good idea to get married in your early 20s. But there are social and economic factors to consider before you do.
For most couples in committed relationships, the "marriage talk" is inevitable. There comes a point when you feel comfortable to share each other's beliefs, religious or not, and try to make sense of the term "marriage" together.
When I brought up the topic to my boyfriend, we felt comfortable having the discussion. However, we had a difficult time deciding what exactly marriage meant to us. It's not that we don't love each other or see a future together; we just haven't dated long enough to consider the option.
We're not religious or economically dependent on each other, so we wondered: what's the point?
Scott Hall, assistant chairperson and associate professor of family and consumer sciences at Ball State, said emphasis on marriage has slightly changed. Millenials view marriage in terms of self-fulfillment, happiness and convenience.
"Marriage can be immediately gratifying and it can have times where it's less about you," Hall said. "Some Millenials may be setting themselves up for expecting too much out of marriage and thinking in large part that it's not about a very personal fulfilling adult-type relationship."
In 1960, the median age at first marriage was 20 for women and 23 for men. In 2013, those numbers jumped to 27 for women and 29 for men, according to the U.S. Census Bureau.
Julia Bartlett-Bouse, a 22-year-old senior nursing student at Ball State, dated her husband for five years before they married in July 2014. They first discussed marriage the summer before she started her freshman year of college.
"We didn't feel like we needed to get married, but we both wanted to," Bouse said. "Ever since we [started being] friends we have always been very close. I consider him my best friend, and he said the same about me. We wanted to move on to the next stage of our life together."
To me the thought of getting married and starting a life together with my boyfriend was a lot to think about. Let's be real: Millenials are selfish creatures. We have a checklist of things we still want to complete within the next several years: graduate college, find a job, start a career, travel, write a novel, make music, move to Uruguay, start a restaurant, live on a boat and do something awesome and spontaneous. Our bucket list is infinite, which leaves less room for "get married" or "start a family."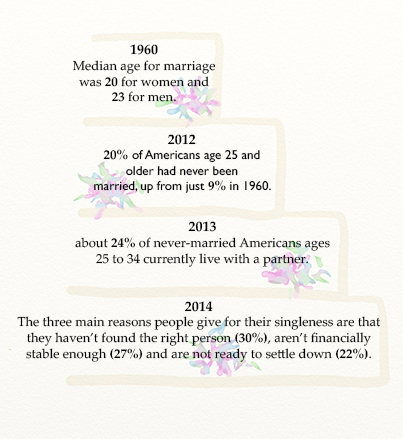 Marriage is not a priority for many Millenials because the opportunities today are endless. In fact, the number of American adults who have never been married is now at a historic high. In 2012, 20 percent of Americans age 25 and older had never been married, up from 9 percent in 1960, according to a Pew Research Center analysis of census data.
"Now many people go to college and want to obtain an education before being tied down," Bouse said. "Women have more going for them than they did in past generations.
They are able to have successful careers and own their own homes instead of depending on men and marriage."
Not only are women today more independent, but also never-married women ages 25 and older are more educated than never-married men, according to a Pew Research Center study. One-third of these women have either a bachelor's or advanced degree, compared with one-quarter of never-married men aged 25 and older.
Ball State students, Michael Kuhn, a 20-year-old sophomore news major, and Lindsey Kuhn, a 19-year-old sophomore special education major, married in August 2014. They said the perception and attitude toward marriage today is different for young men and women.
"A lot of times for young guys it's like, 'dude, you're throwing your life away. You're so young. You still have so much life to live' that sort of attitude. But I'm not dying, I'm just getting married and starting a new life," Michael said.
According to a Pew Research Center survey, 70 percent of 18-year-olds to 29-year-olds who are not married and don't have children say they want to marry, compared to the 25 percent of Millenials who aren't sure.
The Kuhn's first discussed marriage two months into their relationship during their sophomore year of high school. They felt ready to have a serious relationship and didn't want to be "dating" any longer.
"I was more interested in actually having a more settled down, mature relationship," Michael said. "I wanted to find something that was missing in my life."
When I talked to my boyfriend and other close friends about marriage, I realized that there's a good reason why marriage doesn't always make sense to young people today.
Most 20-somethings are busy kick starting their careers and becoming economically stable.
My goals include finishing college and starting a career in journalism. If I feel ready to marry within the next five years, I will. But, I won't let marriage interfere with my career goals.
Jessica Klosterman, a 22-year-old senior nursing major at Ball State, has dated her fiancé, Josh Bergman, for seven years. She said their plan to marry was never a question.
"People are concerned about their careers, and I don't think it's a bad thing. I think it just depends on what the person wants," Klosterman said. "But in my own eyes, in my relationship, I know I can do both at the same time. I could get married right now, and I could succeed in both because they're both extremely important to me."
Dr. Carolyn Kapinus, associate dean of Ball State's graduate school and professor of sociology, said that marriage is a complicated issue. What is right for one person may not be right for another.
"There's research that looks at how people who are married tend to be happier, in part because they have more social support," Kapinus said. "But people who are in unhappy relationships are certainly worse off than people who are single. It depends on a lot of personal values and what's happening within that relationship."
As a 22-year-old, I'm focused on completing my last year of college, honing my journalistic skills and finding a job. Although I'm in a serious relationship and see a future with my partner, marriage isn't something I often think about. It's not a priority in my life now.
When the time is right and my boyfriend and I feel financially stable, I'll be open to the idea of marriage. But until then, tying the knot will not stand as another checkbox on my to-do list.