Louie Zamperini has never been able to sit still and constantly finds himself in trouble. He uses running as a means of avoiding his problems. Pete, Louie's brother, reined him in by convincing him to use running as an opportunity, not a way to escape.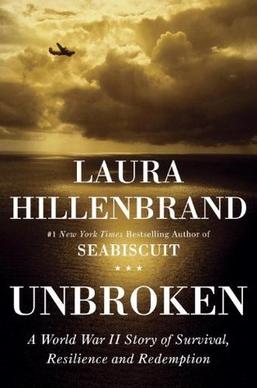 Over time, Louie becomes known for his skill and not his shortcomings.
This non-fiction narrative by author Laura Hillenbrand was written through hundreds of interviews and research.
Louie becomes the youngest runner for the United States in the 1936 Olympics. Although he did not win, he set his sights on the 1940 Olympics. Unfortunately, WWII stomps on his dream for a second try.
Louie joins the U.S. Air Corps to become a bombardier. He bonds with his flight crew, but is given a rude awakening to how often his fellow comrades die or are lost at sea. Eventually, Louie becomes one of the lost.
Although Louie's life is filled with unfavorable or difficult experiences, Hillenbrand illustrates hope and humor throughout the story.
Louie floats at sea with two crew mates until he is captured. As a prisoner of war he wishes and dreams to be stranded on the raft again.
In the face of all of this Louie continues to survive. He uses hope, friendship, mind tricks and rebellion to endure and last until the end of the war.