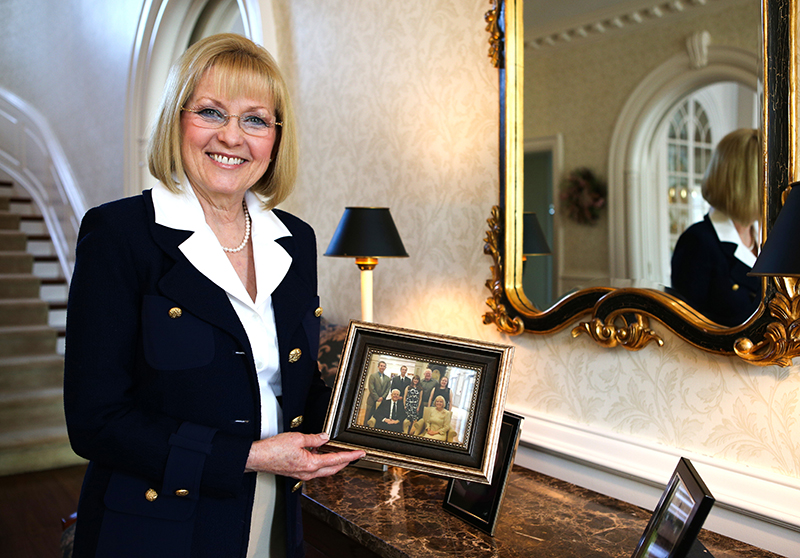 On a gloomy, January afternoon in the president's office at Ball State University, first lady Grace Ferguson sat glancing at a table covered in framed family photos of herself, her husband, Ball State President Paul Ferguson, and their three children. She reminisced on the winter of 1957 when a blizzard blew outside the windows of her father's '57 Chevrolet as the family drove away from their home in Alberta, Canada, to southern California to start a new life.
After Mrs. Ferguson became a naturalized American citizen at 18 years old, she completed two years at Fullerton College earning an Associate of Arts degree.  During this time she also met, fell in love and became engaged to Dr. Ferguson.  Following his graduation from Whittier College and their marriage, Dr. and Mrs. Ferguson moved to Davis, California where he completed his Ph.D. in Pharmacology and Toxicology at the University of California, Davis.  Mrs. Ferguson delayed the completion of her degree, working to facilitate their graduate school experience.  Dr. Ferguson accepted his first faculty position at the University of Louisiana, Monroe.  Because Mrs. Ferguson had a passion for photography and a strong interest in human nature, she decided to complete her bachelor's degree in journalism at the University of Louisiana at Monroe.  Ten years after being married, they started a family.
As she began her new life, little did she know she would be moving multiple times and eventually accompany her husband to two universities as the first lady —  The University of Maine, and now, Ball State.
When she spoke about her experiences as the first lady for the past four years, her engaging smile lit the room.
"I wondered: am I going to be able to do this well? Am I going to embarrass my husband? How is this all going to play out?" Mrs. Ferguson said.
"And I remember [Dr. Ferguson] just very lovingly said, 'you know, it is my responsibility to lead this university. I need you to do what you do best: just love the people.'"
After Dr. Ferguson became the president of The University of Maine in 2011, Mrs. Ferguson began to read self-help books on how to be a first lady and talk to people in preparation for her role. She focused on enhancing a spirit of community among staff, students and faculty. It wasn't long before she realized that the university was her new family.
In 2012, Mrs. Ferguson was invited to open the gate at the Orono Bog Boardwalk, a joint project of the University of Maine, the city of Bangor and the Orono Land Trust. She led a group of volunteers on the first walk of the year. During the opening of the walk, Mrs. Ferguson presented a short speech on the significance of Orono's community.
"She was very good," Jim Bird, director of Orono Bog Boardwalk, said. "People very much enjoyed her. She was very poised–no notes, just talking."
Bird and Mrs. Ferguson met a couple of times for coffee to talk about the boardwalk project and share helpful reports. He described her as a "gracious lady" who has a passion for community.
From helping construct an all-access park to serving as a math tutor and event chaperone at inner-city public elementary schools, Mrs. Ferguson made it a goal to enhance the quality of community life and public education in Orono, Maine.
"My responsibility was to care for these people. And that carries over [at Ball State]," Mrs. Ferguson said.
In May 2014, when Dr. Ferguson earned a "tremendous opportunity" to be the 15th president of Ball State University, Mrs. Ferguson reacted with a "Woohoo!" But they weren't the only ones excited for the move; their 9-year-old, 120-pound golden retriever, Charleigh, was too.
"He's a very big dog. And I've had people say 'is that a small horse or a very large deer?'" she said laughing. "Gentle Giant is what we call him."
In the days following Mrs. Ferguson's move into Bracken House, she took Charleigh for a walk through Ball State's campus, along Minnetrista and as far as Scheumann football stadium. She noticed that students responded well to Charleigh's warm and comforting presence after a long day of classes.
"Often times, they just need a hug. And that's why I bring Charleigh on campus," she said. "It's a great way to meet people. He's an icebreaker."
After settling in and getting a feel for the community in Muncie, Mrs. Ferguson was impressed with the warm welcome she felt. From what she hears from students on Ball State's campus and within the community, it seems to her as if they have a positive relationship with each other.
"Here, people are not just friendly; they really want to get to know you. They really want to incorporate you into their life, they want you to be a part of it," she said.
Mrs. Ferguson said she is impressed with the cultural aspect of Muncie, especially the work Minnetrista is doing and the programs at the Muncie Children's Museum that allow families and children to become more involved together.
"I think there is a lot of potential for our town," Mrs. Ferguson said. "We have come out of a time in our country's history, a recession, and Muncie itself had suffered when a lot of the industries left. When I drive around town, what I see is a resilient community, a community that took a hit but is still going strong. I would like to see that continue."
Mrs. Ferguson looks forward to getting involved with Muncie's community in whatever way she can, but her biggest focus is on the community's youth.
"We want to make sure our kids are growing up with their basic needs met. And as they grow up, that it's healthy and safe for them, and as they get into adulthood that that continues," Mrs. Ferguson said.
Within a few months of living in Muncie, Mrs. Ferguson was getting involved with youth in the community.
On a sunny afternoon at the Boys & Girls Club of Muncie, a dozen children sat cross-legged on a carpeted floor on Martin Luther King Jr. Day listening to Mrs. Ferguson read Maya Angelou's "My painted house, my friendly chicken, and me," a story about a South African girl and her chicken that illustrates diversity.
"She and President Ferguson remember everyone's name," Jennifer Jones-Hall, assistant vice president for student affairs and director of student life at Ball State said. "I am also impressed with her desire to get involved with the students, the campus community and the Muncie community at large."
Mrs. Ferguson said she looks forward to working on a goal that will connect the town with student groups. She enjoys participating in women's groups like Discovery: Ball State Women's Fund, an organization of women who support projects for all students and programs at Ball State through philanthropy.
Beth Lustig, Discovery development liaison, said Mrs. Ferguson's first interaction with the organization was at the December 2014 holiday luncheon for Discovery members in Indianapolis.
"I spoke with a few individuals about Mrs. Ferguson's engagement at the event, and she was very approachable and interested in learning about other's passions. She is very engaging," Lustig said.
Mrs. Ferguson said she has no regrets and has appreciated every opportunity in life so far. From caring for her own family to two large families at Ball State and The University of Maine, she hopes that years down the road she and Dr. Ferguson will be remembered as "the couple that cared." Today, Mrs. Ferguson continues her search for community organizations to get involved with and hopes to help her husband move the university forward.
"Change is a process," she said, in response to the idea of a New Year's resolution. "I want the general trajectory to be: I'm doing better, I'm being a better person."