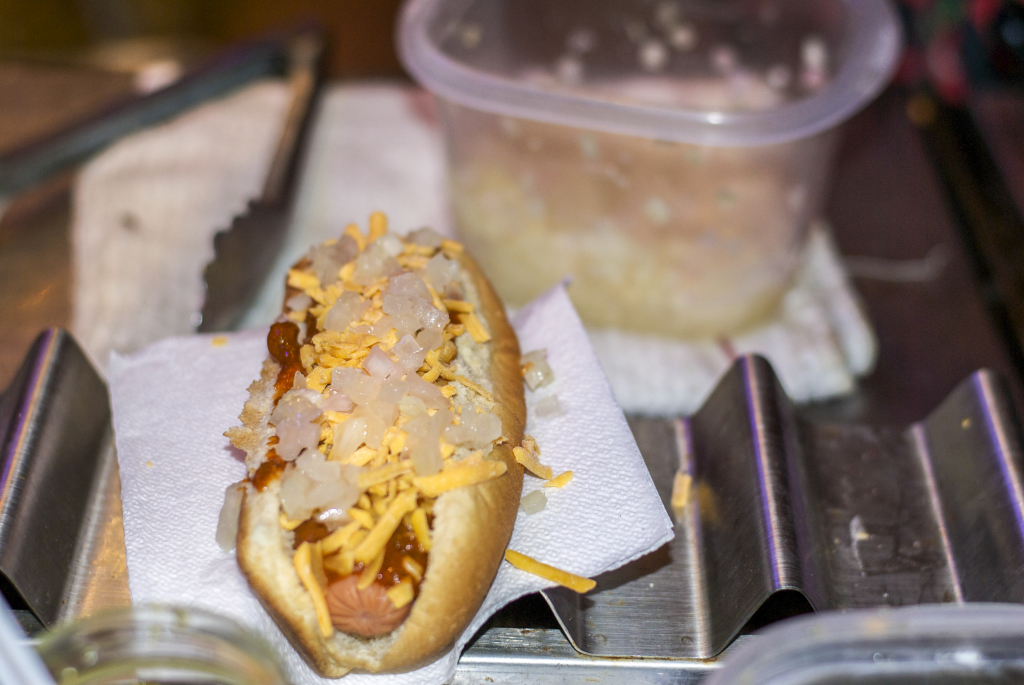 For some students, getting a hot dog during their night out is a tradition. With more stands popping up, students have more choices for their late-night snack.
The oldest of these stands is Carter's Nearly World Famous Hot Dogs, which just celebrated its 20th anniversary in The Village.
Although there are new hot dog stands popping up in the area, owner Mark Carter said he hasn't noticed and doesn't seem to think there is any competition.
Carter said a dream inspired him to first open his hot dog stand.
"I had a vision one night of Oscar Meyer," Carter said. "He came to me and he said 'Mark, go forth and [provide] processed meat to the masses.'"
Carter's witty personality is common when he interacts with his customers.
One customer, public relations major Taylor Imus, said she refuses to go anywhere but Carter's.
"It's definitely a tradition," Imus said. She believes that Carter's not only has the credibility of being in The Village for so long, but it also has the best hot dogs.
According to Yelp, during Ball State's busiest times of the year, such as Homecoming, the wait for Carter's can be over an hour.
Imus said she also appreciates that Carter is a Ball State alumnus, since she will also soon be graduating from Ball State.
Senior Enoch Carlston said that he is also loyal to Carter's.
"It's been there longer, so I know the hot dogs are good," Carlston said. He said that he has never tested the other hot dog stands in the village, but still buys only from Carter's.
Although Carter's is a tradition, new hot dog stands have started popping up in The Village. Speedy Dogs and Ray's FM Music Stand now offer students and locals different tastes, toppings and prices.
Travis Scheuer owns Speedy Dogs, which is open six nights a week. He originally opened the stand with his father as a way to connect with him.
"It's something I bought for me and my dad to do together just to have a little fun," Scheuer said. "It's turned into something I never thought it would."
He said what distinguishes his stand from the others is the sloppy joes and sloppy hot dogs he sells.
The FM Music Stand has been around for less than a semester. Owner Ray Gibson said he believes that it is important for customers to have their options.
"I just enjoy people," Gibson said, "If food is what makes them happy, that's what I enjoy doing."
Despite the tradition of Carter's, some Ball State students have pledged their loyalty to Gibson's stand.
"It's gotta be Ray's," senior Troy Bubisak said. "It's just a great product and Ray is just a great guy himself".
After waiting in line at Cleo's Bourbon Bar for 20 minutes, senior Grant Kirchner said Ray gave him a free hot dog.
Kirchner said that even though Carter's has the Fritos option he loves, he hasn't committed to any hot dog stand just yet.
Gibson said that he is glad many students enjoy his hot dog stand, but he thinks it is important to have a variety of late-night hot dog options in the village.
"I admire the loyalty," Gibson said. "But I think choice is more important."