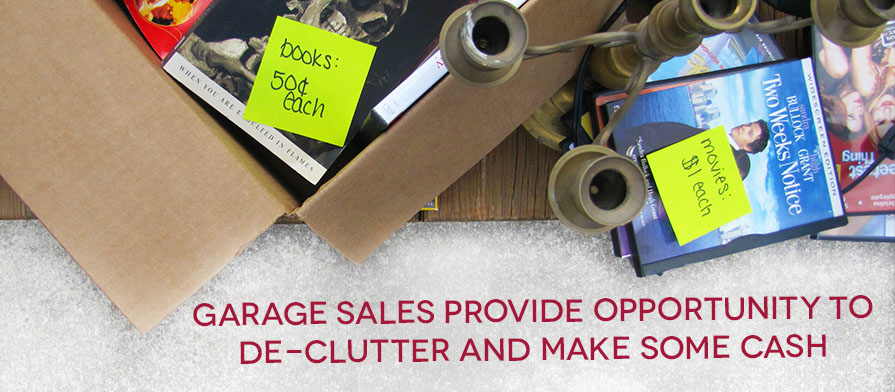 Getting rid of personal items can be difficult. People have a tendency to hold on to things that accumulate and clutter their lives. Therefore, putting possessions on the front lawn for strangers to pick through and buy for five dollars or less can be a hard task.
According to Muncie, native Tom Reeve, there is one thing that makes it easier.
"Drink," Reeve says. "We just sat with a couple of beers and figured out which pictures we really, really wanted to keep, and which ones we could get rid of."
Reeve and his wife had a garage sale in mid-March to prepare for a 1,000-mile move to Maine, providing them with a lighter load and extra money for gas and tolls.
The couple sold nearly half of their items within the first hour and a half.
"Get rid of everything," Reeve says. "If you haven't touched it in six months, get rid of it."
According to Reeve, DVDs, books, pots and pans were quick sells, especially when priced low.
"If you want to get rid of stuff and you don't want to carry it around anymore, then it's not about making money," he says. "Just get rid of it."
As thrifting and DIY trends continue to grow, garage sales become the ultimate win-win situation. The seller makes some extra cash while decluttering, and the buyer finds what they have been looking for at a discounted price.
[one_half padding="0 8px 8px 0″]
Do's
• Make a list of things you need, but keep an open mind for unexpected finds.
• Check your local newspaper for sales and times.
• Take a friend, whether it be for the company, bargaining skills or help carrying items to the car.
• Make a budget of how much you're willing to spend.
• Try to buy more than one item in one transaction. Sellers will often lower the price if you bundle items together.
• Inspect items before purchasing. Previously owned objects run the risk of cosmetic or structural damage.
[/one_half]
[one_half_last]
Don'ts
• Forget cash. Unlike the local Target, these sellers won't accept Visa.
• Buy disassembled items. When it comes time to put it together, parts may be missing.
• Settle for the asking price. If the owner is willing to negotiate, do it.
• Forget things can be easily restored for a few extra dollars. You can find DIY projects on blogs and social media idea boards like Pinterest.
[/one_half_last]