A group of Ball State students spend their Sunday afternoons visiting The Woodlands Nursing Home and providing dementia patients with iPods filled with their favorite music. Memories, stories and people otherwise forgotten have appeared to them between the lyrics.
Music is much more than a hobby for Tyler Eads and Logan Dooley. For them, music is a way for to connect with those suffering from dementia at The Woodlands nursing home in Muncie.
Eads and Dooley, both freshman telecommunications majors, are part of Ball State's chapter of Music and Memory, a group made up of freshman telecommunications students who use music as a way for patients suffering from physical and mental ailments to reconnect with lost memories.
[topswf swf='http://ballbearingsmag.com/wp-content/uploads/2014/04/music-memory.swf' width='680′ height='400′ quality='best' wmode='transparent' scale='default' flashvars=" allowfullscreen='false']
Michael Gerhard, an associate professor of telecommunications, was inspired to start the group because of his first-hand experience at The Woodlands. His father was a resident there for 6 years before passing away.
Recently, Gerhard visited Gene H., a Woodlands resident with an advanced form of Alzheimer's disease. Typically, Gene cannot remember important details about his personal life, like his kids or his past profession.
In this encounter, Gene had only been able to say one word to Gerhard: "gospel."
During a later visit, Eads, Dooley and Gerhard brought Gene an iPod loaded with classic gospel tunes. Gene enthusiastically sang along, remembering all the lyrics. When "Amazing Grace" played, he prayed. And his eyes were filled with tears.
"That was incredible," Eads said. "He started crying and singing…we were really astonished."
Gerhard didn't know the words to some of the songs, but he still sang with Gene, so he could learn them. Gene told him "that's the only way to do it."
"Seeing him so happy, emotional and overwhelmed was great," Dooley said. "You get to see this happening right before you. It's not the same as watching a video and reading about it, because you really get to see it change someone's life."
Music that has a strong association with a memory can help those with Alzheimer's disease remember moments connected to the music, according to the Alzheimer's Foundation of America.
In the case of Gene, he was able to speak a little bit about the memories associated with the music. He said he used to sing the songs with his children during church services.
"You have to understand that all of those memories in the past are sometimes tangled up and unclear to them," Eads said. "The fact that they can start speaking in full sentences and interpret their past to you when they couldn't five minutes before, that's incredible."
[two_third]
Ruth P. is another resident the students have worked with. When she hears a tune like "Great Balls of Fire," she lights up like fireworks. One moment she plays air guitar, and the next moment, she yodels at the top of her lungs, even if the song doesn't contain any yodeling. But the students say the fact that she's active and joyful is the important part, not if she sings the right words or not.
Eads said doing this sort of work is humbling, and it fosters an unselfish mentality.
"It's about [the residents], none of this is about me," Eads said. "When you get those interactions with them, you see how grateful they are. Some of them don't even have family that visit them at all."
The most rewarding thing for Dooley is having companionship with other people in the group who are passionate about improving the lives of others.
"It makes you grateful for those around you and having your wits about you," Dooley said.
Eads said they have been successful so far with most of The Woodlands residents in the program. The group's ultimate goal is for the program to reach all the nursing homes in Muncie. They have started to work with one resident at the Elmcroft Senior Living facility, and they hope to expand the program there. [/two_third]
[one_fifth_last] Listen to Ruth perform the kind of music that inspires her.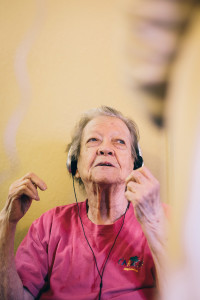 [/one_fifth_last]