Clear out your clutter.
Face it: College students are one step away from being hoarders. You can blame your busy schedule for your messy bedroom, but with some planning and the right materials, you can turn your tornado-ridden room into a spotless chamber.
Learn to use baskets.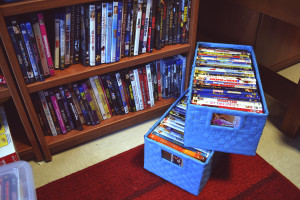 They are your best friends. Sure, it's annoying to take time to organize your products in baskets, but you'll thank yourself later. You'll no longer have to dig through your nightstand to find your glasses or your secret stash of Skittles.
Organize your closet.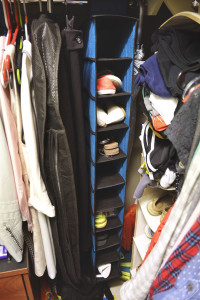 Don't be ashamed, we all have the tendency to throw our possessions in our closet once we come home from a long day of classes.
But once your closet gets so stuffed that clothes burst out on top of you when you open the door, it might be time for a change. There's a simpler key to your closet jam: Organize it from the beginning.
Hangers are a must, but go one step further by purchasing multi-pants hangers that create more space in your closet.
If you have a shoe obsession and don't know how to store them, invest in stackable bins and hanging canvas shelves. These tools are excellent for maximizing every inch of your closet where other hangers can't
Have stacks on stacks on stacks of T-shirts that continuously fall over? Purchase shelf dividers to keep those leaning towers neatly placed on top of one another.
Clean out unused items.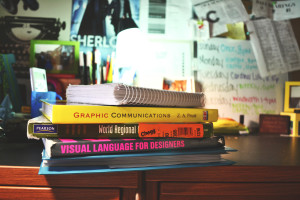 They've been staring at you for so long you forgot they even existed. But once you sell your old textbooks and donate your outdated sweaters, you'll find more storage room than you thought imagined.
Spice it up.
Once you've tackled your clutter and can actually see your bedroom floor, it's time to add some flavor to your pad.
Pop with colors.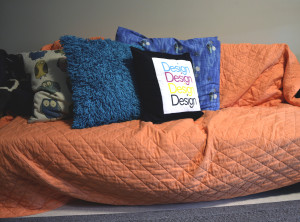 Visit your local flea market to purchase pillow accents that can brighten up a room on a dime. During your visit, look for vibrant rugs to complete the look for an extra splash of color.
Warning: Save the little money you own to focus on long-term purchases. Steer away from the trinket aisle. Don't fall victim to saying "This is why I don't have nice things."
Put a vase on it.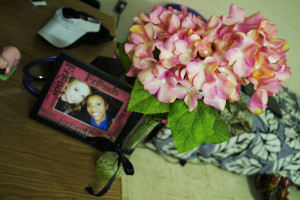 Your mother has probably acquired an exceptional collection of them by now. During your next visit to your parent's, check the attic for any old vases they never use. Scatter them around your apartment to add some flare. If you're feeling fancy, put some flowers in them for another dash of color.
Hang up your art.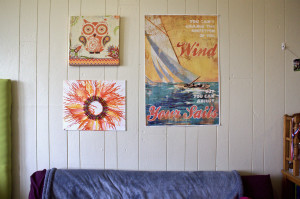 If you're an artsy person, show it off around your place. You can impress your guests and give your apartment some visual appeal at the same time
But you don't have to be Van Gough to display your paintings. Try making splatter art or crayon abstracts that you can call a masterpiece. If you still dislike your creations, hang up some maps or postcards on a blank wall and you'll create a visual masterpiece in no time.
Cheap mess solutions.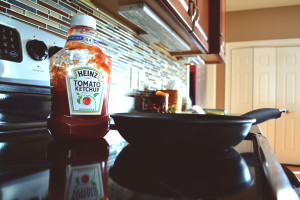 We moved out of our parents' house, so we've gotten a little lazy with our cleaning habits. We're also broke. Try using these products you already own to clear out the dirt.
Shower tiles – Scrub car wax to remove any dirt on your shower tiles.
Microwave – Heat up a water and vinegar mixture in a bowl to clean out your microwave.
Pots and pans – Add a dab of ketchup on a paper towel to scrape off scum on your pots and pans.
Wood floors  – Remove permanent marker stains and scratches on your wood floor with rubbing alcohol on a paper towel.
Walls – Rub white bread on your walls to remove fingerprints.
Clean your cat hair.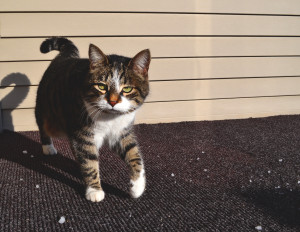 You love your cat, but you hate their mess. And your vacuum doesn't do the trick. Try these simple solutions to clean up after your feline.
Wooden furnishings – Use a cotton cloth with furniture polish to eliminate the electric charge.
Bed linens – Dampen a pair of rubber gloves, and the hair sticks right to them.
Hardwood floors – Sweep with an electrostatic mop to pick up the hair.
Clothing – Instead of a lint brush, use a sticky lint roller so the hair is sure to be gathered.