College campuses worldwide are laden with Greek organizations, and at the heart of each sorority or fraternity is a cause that gives the group a purpose. Each member not only donates his or her time, talents and gifts to his or her cause, but also helps plan campus-wide events that donate all proceeds to the betterment of their charity.
This is what differentiates philanthropy from community service.
 Philanthropy – promoting the welfare of others by donating to causes who make miracles happen.
Community service – putting time and energy into bettering the world around you through your abilities.
"I'm amazed at how much college students can do. We're either just friends or we're friends with a cause that's Greek life."
– Kelsey Danielson, director of philanthropy for Alpha Phi.
Alpha Phi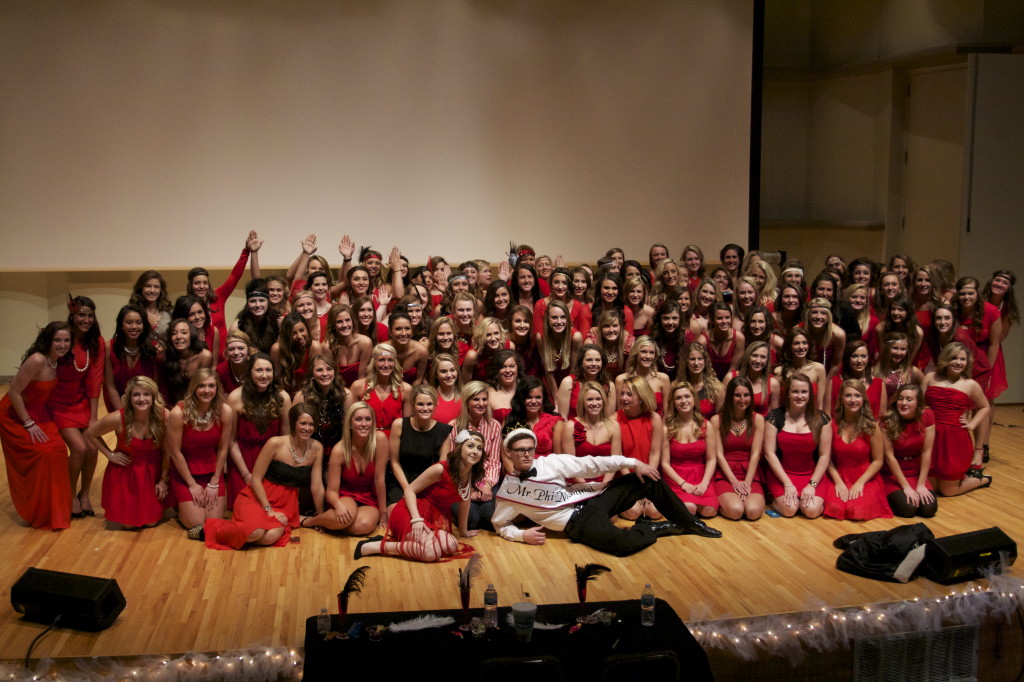 "I'm amazed at how much college students can do. We're either just friends or we're friends with a cause and that's Greek life," says Kelsey Danielson, director of philanthropy for Alpha Phi.
For the sorority sisters of Alpha Phi, wearing red shows their commitment to fellow women in the battle against heart disease. Each chapter worldwide shares the same cause, the Alpha Phi Foundation, (APF) which globally benefits women's heart health research.
Annually, the foundation donates a $50,000 award to facilitate research toward a better understanding of the differences between men's and women's cardiac care. This year, this amount will be increased to $100,000.
Kelsey Danielson says she rushed to bond with friends and to team up with other students who are determined to make a difference. For Danielson, the significance of women's heart health lies in the ties each sister has to the women in their lives.
It was Danielson's main priority upon landing her position to ensure that philanthropy remains a core value in the Alpha Phi sisterhood – for each member to understand their cause and take it on as much as she does herself.
"Once you rush, you take on that organization's cause and make it yours," Danielson says. "In Alpha Phi, that means standing for women's heart health."
In the fall, the women of Alpha Phi host the annual Red Dress Gala. This event is for members past and present and their families. Dinner is served, and a silent auction is administered while the attendees all wear red to support the cause. This event has been on Ball State's campus since 2010.
Come springtime, the sisters of Alpha Phi organize their second annual event, the Mr. Phi-Nomenal talent show. Comprised solely of men, each contestant is interviewed by the panel of judges, then presents their talent to the sold out crowd at Pruis Hall. This year's winner was Fiji's Kyle Goheen.
"Mr. Phi is one of my favorite annual events, Getting on stage to represent Fiji, the Alpha Phi Foundation, and Greek Life as a whole makes the experience exponentially more rewarding," says Goheen.
Last year, the two events combined raised more than $17,000. In Danielson's opinion, the success of Alpha Phi's philanthropy events is a result of their meticulous planning and hard work.
-•••-
Phi Gamma Delta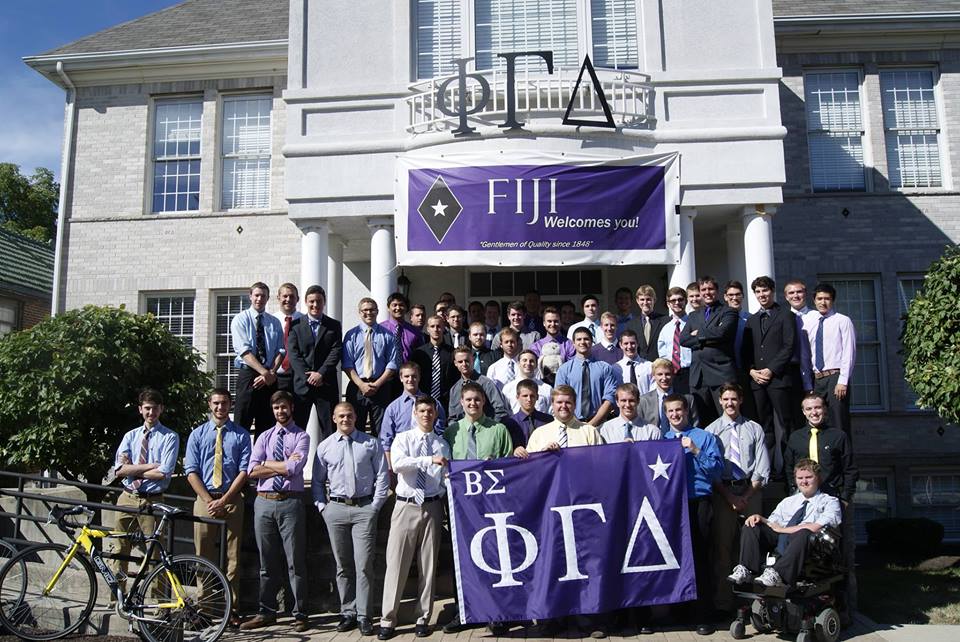 The men of Phi Gamma Delta pledge their support to the women and men who fight for our country through their philanthropy. The United Service Organization (USO) is their main cause, which provides live entertainment at military bases on American soil as well as overseas. Their main focus is to boost the morale of the military and their families.
To support this cause, the brothers of Phi Gam host a capture the flag tournament and a bike tour of all the Indiana chapters, called Ride Across the Purple Valley (RATPV).
Each July, any member of Phi Gamma Delta who would like to support this cause take a three to four day bike trip, visiting every chapter's house in the state. This year, the ride will end in Indianapolis where the meeting of Ekklesia will be taking place. This is a meeting for all Phi Gamma Delta chapters internationally that takes place biannually.
"We're doing this to show everyone what our Fiji chapter is doing for philanthropy. It's important to show other Greek organizations that we can do our part as well," says Austin Zehr, the co-community service chair for Phi Gamma Delta.
Last year, RATPV raised over $3,000, but Zehr says that this year's goal is $10,000.
Supporting the wellbeing of the men and women who fight for our country goes hand-in-hand with the core values of Phi Gamma Delta, which are friendship, knowledge, service, morality, and excellence.
-•••-
Pi Beta Phi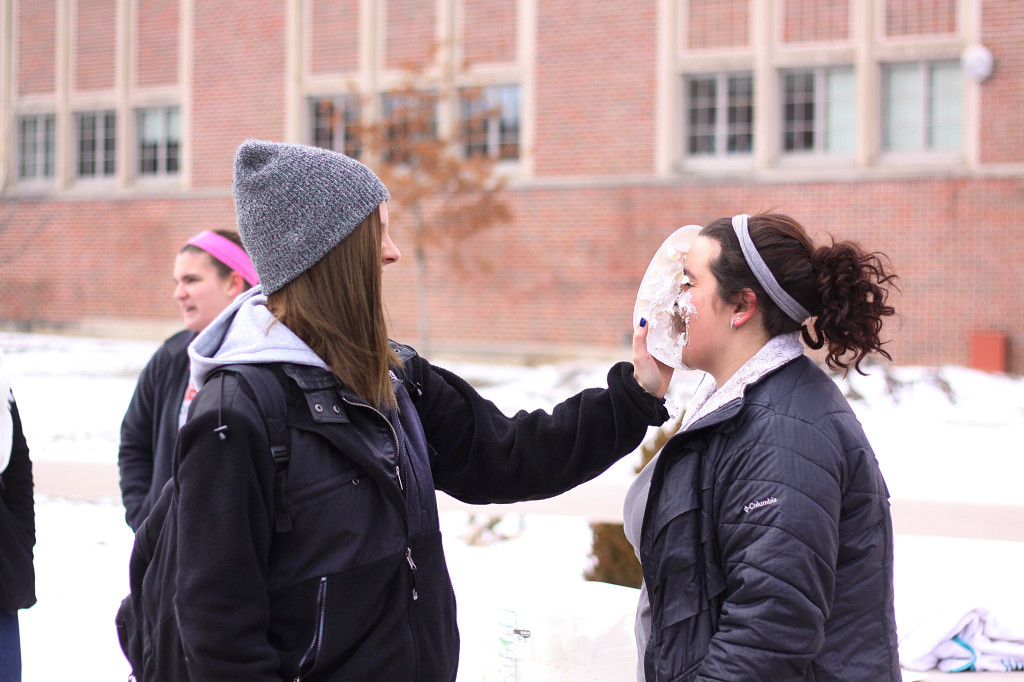 Since Andrea Hickle took over philanthropy for the women of Pi Beta Phi, the chapter has begun combining their efforts philanthropic and community service efforts to enable a more literate society.
"I think literacy is taken for granted," says Hickle. "We are in an institution of higher education. We need to promote learning and know that not everyone can read and write. Even in America. We just need to focus more toward seeing the issues and helping make a difference."
Last semester, Hickle brought a Pi Phi tradition to Ball State. Champions Are Readers (CAR) is an after school program that secures donations of children's books and activities from Pi Phi's headquarters. With these donations, members who choose to participate are trained and paired up with a student from South View Elementary.
The program counts toward the volunteers required community service hours. Hickle encourages her sisters who are not involved in CAR to tutor or read to children as their time serving the community.
"If we work hands on with our cause, it will get girls more motivated and let them see the impact they can have," Hickle says.
Every Alpha Phi chapter internationally has sisters read to children on March 2nd, which is Dr. Seuss' birthday. Ball State's chapter reads aloud at Kennedy Library.
On the philanthropy front, the sisters of Pi Phi raise money for many different charities that support literacy. Their primary cause is First Book, which donates books to children in low-income homes.
They also donate to Arrows in the Arctic, a charity that gives recreational books to Canadian elementary schools who would otherwise only provide textbooks.
A portion of their proceeds benefit the Pi Beta Phi foundation and their literacy fund, which funds scholarships, sisters in need, and the promotion of literacy in everything they do.
The sisters of Pi Phi host two main philanthropy events. The first is called Paint Wars, a new addition to their agenda. They pair with the men of Alpha Tau Omega and invite students to come wearing white clothes they wouldn't mind getting a little messy. There is tug-of-war match on a paint-covered tarp, a dodgeball game with paint-filled balloons, a messy obstacle course, ping-pong tournament and many more games.
Their next event, Phi Fest, takes place in April. The three-day tournament includes volleyball, basketball and dodge ball. Each sister collects donations and organizes a silent auction comprised of themed baskets to sell at this event.
In addition to Pi Phi's two main events, two smaller events are also hosted, called Pie a Pi Phi and Pi Beta Fitness. More than $5,600 was raised last year for literacy.
"Philanthropy is so much bigger than us. If we can use our time, talent, money, or whatever we have to offer back to the community, or for us specifically to promote literacy, then that will start a movement and make a difference," Hickle says.
-•••-
Alpha Gamma Delta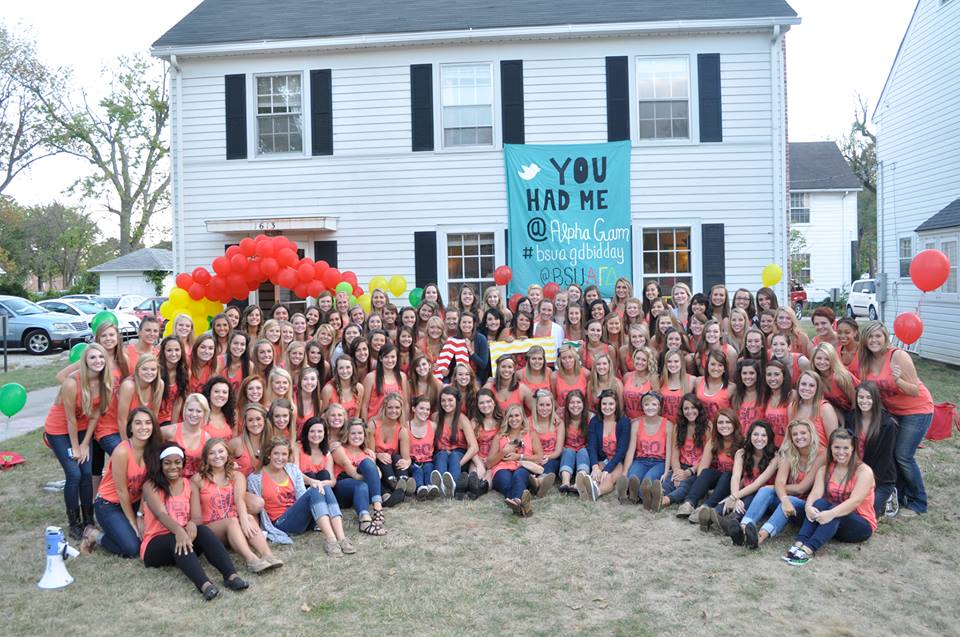 For Katie Haney, Alpha Gamma Delta's philanthropy chair, diabetes research is much more than a cause that her sorority raises funds and awareness. It's a family matter.
Haney grew up watching her grandfather and stepsister, who have type-3 and type-1 diabetes respectively, take insulin doses after every meal.
"I get to live a normal life, and she has to constantly wear a pump on her hip to dose for anything she puts in her mouth," says Haney.
The fact that AGD's main cause is diabetes research was a factor in her decision to pledge.
"I think sometimes we forget why we're an organization. It's not just to make friends. I had personal connections here." Haney says. "You don't choose because their colors are cool. You choose based on which organization is raising money for something you're passionate about."
Haney's goal as philanthropy chair is to instill the passion she feels toward the research of diabetes into her sisters. To some, philanthropy was just something they had an event for in the fall and spring. But Haney took it upon herself to change that when she became director of philanthropy for AGD.
At a chapter meeting, she showed a video that her stepsister, Kyla Tighe, had made with three friends. The video vocalized what it means them when money is raised on their behalf.
Each year, AGD hosts two philanthropy events to benefit the Alpha Gamma Delta Foundation (AGDF). Through this foundation, financial support is given to members who have diabetes, sisters in emergency situations and scholarships.
In the fall, the women of AGD pair up with the men of Theta Chi to present "WaterDaze." This event takes place in Lafollette field on a hot August day, which is cooled down by the water slides, water balloons and slip-n-slides. Last year, the duo raised over $6,000 for Riley Children's Hospital.
Their second philanthropy event is called the Par-Tee Golf Tournament. Each member of the sorority is required to either recruit a team of four at $60 a head, or to secure a sponsor for the event.
To Haney and the sisters of AGD, philanthropy is important because it is more effective to support a cause  in a group than it is alone.
"I myself may not be able to make a huge difference in diabetes research, but as a group, as AGDs, we can make a difference," says Haney.
-•••-
Kappa Alpha Psi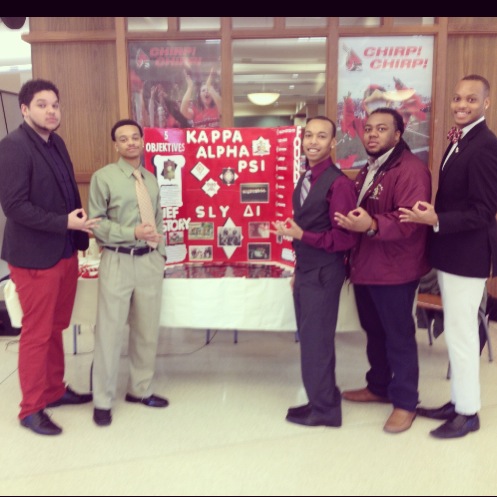 The men of Kappa Alpha Psi concentrate their philanthropic and community service efforts on the wellbeing of youth. To do this, they have a program called Guide Right. The Kappas, better known as Nupes, mentor young people so that they can have the tools to reach their full potential.
In addition to the Guide Right program, the Kappas give portions of their proceeds to both the Buley Center here in Muncie as well as the Boys and Girls Club. They give back to the community and a younger generation to facilitate achievement, which is the main value they strive for as a brotherhood.
"Our motto is achievement in every human endeavor," says Kyle Williams, polemarch for Kappa Alpha Psi. "When we say that, we don't just mean academically and socially, but spiritually and through friendships, brotherhood and unity."
This year, the main philanthropy event the Kappas hosted was Act Like a Nupe, which is a team dance competition for women. Williams says that each team is to dress up in men's clothing, and will have four minutes to show their "dynamic routine that imitates our stepping and strolling style."
To enter, contestants are to bring at least three canned goods to donate to Muncie Missions. The proceeds of this event are also given to Muncie Missions.
In Williams' opinion, philanthropy unifies our campus. "I'll always see different segments of campus coming out, and walls coming down. People black, white, Asian, all colors coming together for one cause, having a great time. It's uplifting and inspiring."