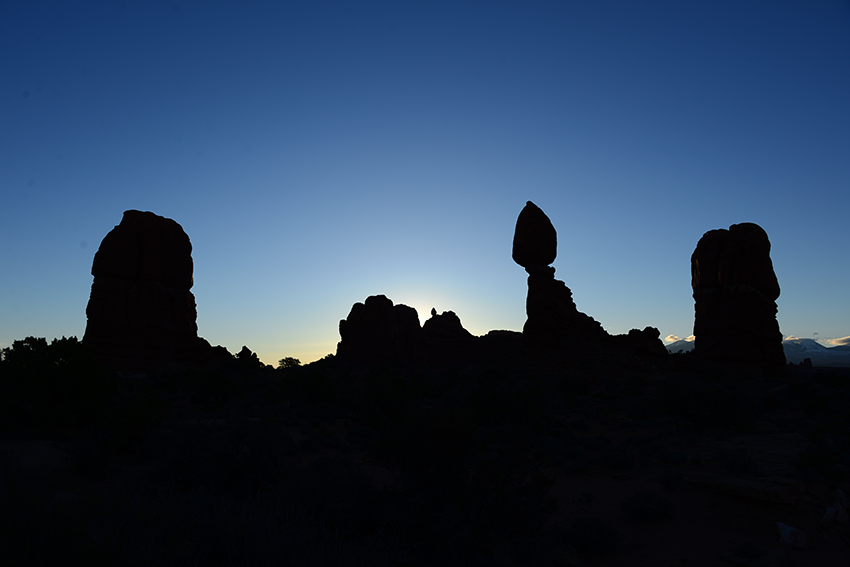 My boyfriend, Tyler, and I planned to visit Canada with friends, but we soon realized we were too poor to have a passport sent to us in time. So while we were sitting at home we thought, "Hey, we haven't even seen all the states," So we decided to plan a road trip.
We had a whole month to prepare, so we thoroughly sketched out our itinerary. Our first destination was the Grand Canyon. I am terrified of heights so I'm just confronting my fears, ya know. Then, we visit through Illinois, Iowa, Nebraska, Denver, Arizona, New Mexico, Texas and Oklahoma. So yeah, I'm pretty stoked.
The day before spring break started, I woke up with a cold. That wasn't pleasant, but I'm pushing through. Anyways, we cleared out the apartment, unplugged the appliances and electronics and put Clover, our dog, in the car and headed back home in Mishawaka, Ind.
Day One
Saturday morning we woke up at 4:45 a.m., packed up the car and headed out. Tyler had the first driving shift. Of course the first part of the trip would be a challenge because well, that's just our luck. First, we were hit with snow. Then rain. Then hail! Finally, it was smooth sailing. Three trips to the gas station, switching drivers and 16 hours later, we saw the most beautiful thing: the Rocky Mountains right in front of us. The sun was setting, so you can imagine how bad I wanted to pull over and kiss the earth for it being so rad.
Day one was mainly a bunch of driving. It wan't anything too special other than the mountains and finally being able to stretch our legs when we got to the hotel. (Even though we went to the wrong one first. You win some, and you lose some… and we lost.)
Now the fun part.
Day Two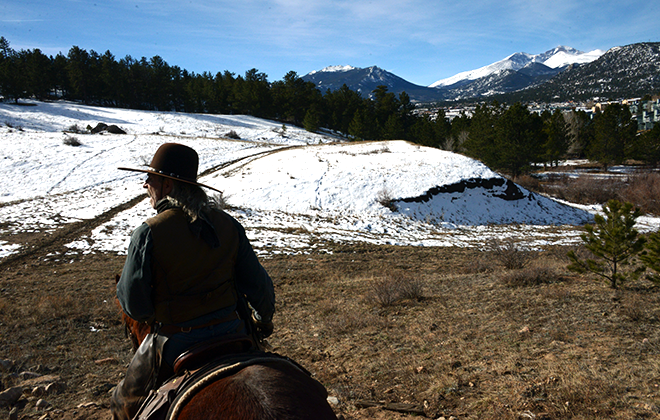 My alarm went off at 5:45 a.m. to force me to wake up and get ready for the Rocky Mountains to go horse back riding. The drive to the stables was not one I expected. I figured I was going to be driving around and around up a mountain which was right. But I didn't expect construction. Recently, there has been a bad flood in the area, and bits of houses were mixed in with trees that have fallen. On one house there was a sign saying, "We're okay" in red spray paint. After pushing through all of that, we arrived at the stables where we met REAL COWBOYS.
Riding up the mountain was crazy. My horse was not about it and tried to go off the trail. Tyler and his horse, Panda, were looking at me like I was crazy, and our leader, Doc, kept telling me to steer harder. (I had a camera in one hand, so you can understand where I'm coming from.) It was beautiful, anyways. With the scenic view of the mountains in the distance, our one-hour ride went up one of the mountains at Estes Park.
We then went to a small town nearby to grab some grub and had picnic in a park.
Oh, we also decided we want to live here because it's just that great.
After the GPS kept insisting on providing me the wrong directions, we arrived to our hotel. After we relaxed for a moment, we went to downtown Denver to explore. Everyone seems incredibly nice and active here. Go you, Denver, go you.
We left downtown and returned to our hotel to call it a night. Our next destinations are Arapaho National Forest, Glenwood caverns and Arches National Park. I couldn't be more excited for what these adventures might bring.
Day Three
Our schedule had to be altered today. Back story time!
A year ago my mom gave me this amazing necklace, right? I basically wear it every day. She bought it from Breckenridge, Colo., which is around where we should be today.
Why do I bring this up? Well, I may or may not have left that necklace at our last hotel. And, of course, the hotel never got back to us, so it's gone FOREVER.
Nevertheless, we headed to the forest we planned to explore, but instead the GPS took us to some ranger station an hour away from the forest. Needless to say, we didn't go because all that backtracking wouldn't be worth it.
Breckenridge was 20 minutes away, and I needed to find the necklace again. After walking up and down Main Street, we didn't have any luck. But we were persistent. After taking a small lunch break, we headed back to Main Street. Our bad luck streak had finally ceased!
The first shop we walked into was the one. They didn't have the same necklace, but the other designs would suffice.
After I jumped for joy, we went on our way to Arches National Park in Utah. I wanted to capture night photography, and by the time we got there it was pitch black. The way to get the park was nothing like I imagined. It was a long spiral up a mountain. As a fan of all things dark, you could imagine it was super fun for me because all I could barely see anything. Naturally, every time we got out of the car and heard something rustle in the darkness, we thought it was a murderer.
Day Four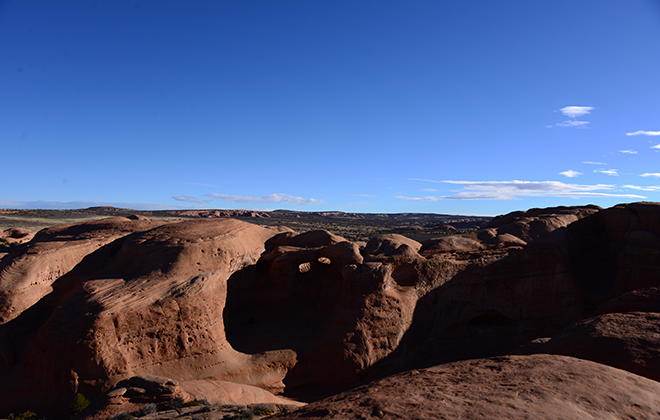 We woke up around 6 a.m. so we could catch the sunrise at Arches. We drove up and up until we got to the delicate arch parking lot and headed our way on the hike. I could easily say this was really rough.
At the beginning, the hike was smooth sailing. We had a full water bottle of Gatorade and some granola bars. Sure, there were a few times where the tail would get rocky, but that was nothing compared to what we saw coming: a giant, steep hill that was pretty much one large rock.
Being scared of heights, this was not fun. I pretty much crawled the entire way while Tyler looked at me, trying to hold his laughter.
The journey up the hill wasn't a quick one. Soon, my asthma starting fighting against me, so we  had to take multiple breaks. Tyler held my hand and told me to keep looking at the ground as we went higher. At one point, I regretfully looked below and saw my death. Luckily, just past that point was the arch. It was a lot bigger than I imagined.
The hike back was not that bad at all. We hopped in the car and headed to our next stop: the Grand Canyon. On our way, we witnessed the Rocky Mountains, beaming vibrant colors. We took breaks along the way to visit little shacks made up of 5 boards saying "Navajo handmade jewelry here." I bought a lot of stuff there to bring back home like a arrow and some jewelry. Wild horses and other animals were on both sides of us as we drove.
Finally, we made it to the Canyon. We pulled over at the first stop, and wow, it was amazing. The pictures online don't do it justice. Its massive size took my breath away.
We so eager to explore more, but we first had to drop our belongings off at the hotel. We just made it back in time to catch the sunset at the south rim. This was seriously one of the craziest thing I have ever seen.
Tomorrow we will be hiking the canyon and hopefully kayaking!
Day Five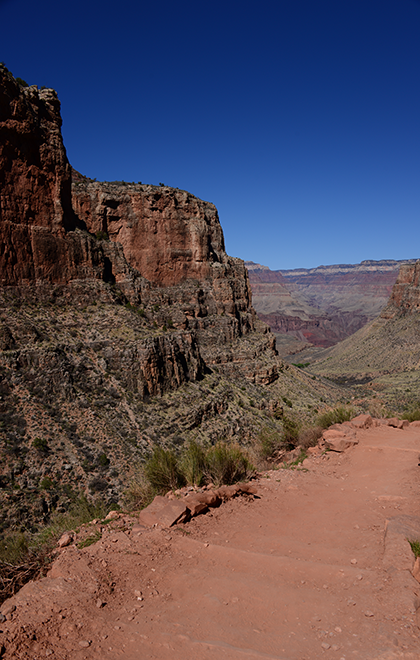 Today was all about the Canyon. We arrived at the Grand Canyon around 11a.m. as we felt like we deserved a little sleeping in at this point. At first, we didn't know where to begin hiking. Everywhere I wanted to go included a rafting trip to the destination, walking is the cheaper option, so you understand our predicament.
We found the Bright Angel Trail and discovered it lead to the Colorado River. At that destination, we were able to see a waterfall at Phantom Ranch. Little did we know what was ahead of us.
We headed on our way; weaving through old people, people with kids, screaming kids — the list goes on. I don't know why the felt the need to scream. But I do know why I'm not the biggest fan of kids.
Going down the trail was pretty steep as my feet kept sliding forward in my boots, making my pinky toe crush into the side of my new hiking shoes. After taking a few breaks to drink our weight in water and eating a granola bar here and there, we kept trucking to the bottom of the Grand Canyon.
The journey down was just a dirt trail that had pieces of wood in the ground acting as stairs. We didn't appreciate them as much as we did when we were coming back up. Once we hit the 3 mile mark, we took a couple minute breaks to catch our breath. Back down we went.
After going about a couple miles more, we finally made it to the bottom. It was so massive. looked around, and I felt like we were hobbits living in the shire.
Tyler was ahead of me and told me to slow down. I didn't know why until I looked over and saw a female moose to our right side. It was a awesome moment, but we also didn't want to bother it so it wouldn't bother us.
We looked at the map and saw we were still 5 miles away from Phantom Ranch. We only had 2 hours until it was sunset, and it took us around 3 hours to get to the bottom. After taking a deep sigh we headed back up. Waterfalls will be our next trip.
Oh. My. Word.
Never have I ever endured a workout quite like hiking up a side of the Grand Canyon. After taking multiple breaks and drinking water and eating whatever left we had in our backpack, we pushed through. Seeing things that we recalled seeing in the beginning of our hike was a beautiful thing. I don't think I've ever been so excited to see a mound of rocks that I remembered in the beginning. So we began to see more people, hearing cars and finally seeing people look over the top.
It was around a 10 mile hike all together, and I'm glad we did it. I wanted to take night pictures here as well but at the end of that all we wanted to do was head back to the hotel and kick up our sore feet.
Looking back, I can say that hike was one of the things I will look back and talk about for years to come.