There's a new kind of restaurant in town
With menu items like shredded duck confit, curried lamb, herb quinoa, rutabaga, Gouda grits and crostini, you might expect the Barn Brasserie restaurant to be in a city like Lyon or Paris, France. But less than two miles from campus is where you'll find this new establish­ment, housed in the old White River Landing building off of Charles St. in downtown.
Walking into the restaurant, cozy brick walls lined with artwork from Yorktown's "The Art Murmurs" club greet customers under the warm Ball Jar lights. These glass fixtures, surrounded by rustic farm wheels, are only one expression of the restaurant's sense of community.
"A lot of our staff grew up together here. It's our connectedness and passion that make working here a joy," says hostess and Ball State freshman, Katie Wilburn. "We will do anything for our customers and each other because we believe in this place and want it to succeed."
The master chefs behind the Barn's red door, owners Matt Burns and Jessica Wilburn, are the reason for this welcoming and relaxed, upscale experience. The couple met several years ago, a few blocks down the road at The Fickle Peach. After working long shifts cooking for Vera Mae's and Taste of Texas in Muncie, Jessica and Matt enjoyed a beer and talked about one day owning their own place.
Plans for this dream weren't realized until they worked together at Oakwood Retreat Center in Selma, Ind. The kitchen's philosophy for honest cooking taught them the benefits of sustainability. And when the opportunity came around, they didn't hesitate to bring that wholesome, seasonal style to Delaware County on June 24, 2013.
Of course, there are plenty of restaurants on McGalliard to eat an affordable meal with friends, but none quite like the Barn Brasse­rie—Muncie's first of its kind.
"There's no other restaurant in Muncie that uses as much local and organic produce as we do. And we don't serve something if it's not top quality," Burns says. "We also want our food to have energy, so we try to get it as fresh as possible. Food starts dying as soon as you pick it. We buy fresh so the ingredients have the best taste and the most nutrients and benefits for our customers."
Burns describes his menu as a combination between upscale comfort and French soul food. Staying true to the Barn's commitment to fresh ingredients, the menu changes each month to reflect what foods are in season. Some menus, like Sunday brunch, are different each week. Then there is the restaurant's signature menu item: the Barn Burger, which features new ingredients every day.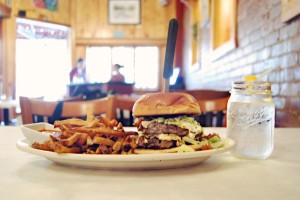 The burger used to be served only after 9 p.m., but after customers begged to make it available all day, the owners obliged. Creating the Barn Burger each day is like a fun equation for Burns. "I try to think of food that people like and turn it into a burger," he says.
Take the Chinese Buffet Barn Burger: a sweet and sour chicken burger with egg roll stuffing, crab Rangoon cheese and fried wontons. Mouth watering? Watch for the Barn Brasserie to post its Barn Burger special of the day on its Facebook page. But you'll have to hurry in. These burgers are in limited supply. (On it's debut, the Chinese Buffet burger ran out before 6 p.m.!)
It seems the biggest obstacle Barn Brasserie will face will not be not providing excellent quality and service, but simply getting people downtown. With stores like the Downtown Farmstand and the Farmers Market becoming more popular, Jessica hopes that the local movement is turning into more than just a bandwagon idea.
"It's one thing for people to say 'Yeah, I'll support local; that makes sense.' But for people to really do it…we will see if we can stay open," she says.
Though some menu items seem foreign to customers, the general consensus is the same: Those who give the Barn Brasserie a try keep coming back for more.
"I live in Fishers, but I have come here several times just to eat. The food always tastes great, even if you're unsure of the ingredients at first." says customer, Ginny Cleland. She adds, "It's nice to have a local restaurant that's not a chain. These are genuinely nice people."
On my visit, I tried lamb for the first time—a curry double lamb Barn Burger with apple chut­ney and goat cheese—and was glad I took the risk. The meat was perfectly tender with a tangy touch of curry. Accompanied by a smooth, goat cheese and apple chutney topping combination, it was an ideal blend of sweet and savory.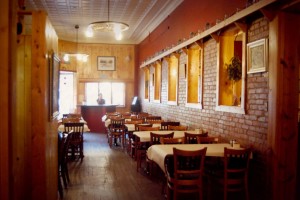 "I don't know how Matt puts tastes together, but I've never had anything new that I didn't like," my server, Alex Spangler said. "The food is one-of-a-kind in this town." And that includes the food presentation, something Matt takes pride in—creating a beautiful, finished product.
True to its name ("Brasserie" is French for brewery), in addition to appetizers, homemade sodas and sauces, soups and salads, burgers, entrees and desserts, the Barn also carries strictly local beer, with new specials all day, every day. It goes without saying that this is not your traditional American restaurant, but for the customers who make it there, the Barn Brasserie is becoming a new, celebrated dining tradition that's as educating, enriching and satisfying as its food.