Three Student Athletes Prove That Going Pro and Finishing Their Degree is Not a Catch-22
As children, many of us played ball outside, long past lunchtime and into the late hours of the night. We'd grab our siblings or neighbors and play until our parents called us in, or the streetlights came on, signaling that it was time to call it quits.
Some of us became athletes in high school, pushing our bodies to the limit outside of the classroom. Chances are, however — whether after high school graduation or a shift in focus — we've all had to give up competing in the sports we came to love.
Then there are those, like Ball State football player Travis Freeman, women's soccer player Brigit Reder, and men's volleyball player Kevin Owens, who kept playing in college, forcing them to pit their academic future against the possibility of becoming a professional athlete.
Though the payoff can be great, in the end there is always a tough decision to be made: do they risk it all for going pro or finish their degree? Freeman, Reder and Owens are proving that it doesn't have to be one or the other.
From 2011-2012 the NCAA reported a record high for student-athlete participation, with 453,347 players. On average, only 1 percent of those athletes make it to the professional arena. And based on the NCAA's most recent Division 1 Graduation Success Rate Report, only 82 percent receive their diploma in six years. After spending so much time involved in sports, many student athletes are not as prepared to enter the workforce as their academic peers.
Travis Freeman was one semester away from graduating when he got a call from an agent, asking him to train for the March 20, 2013 NFL Pro Day event at Ball State. The linebacker and organizational communications major has always taken pride in his education, but when the chance came to pursue his childhood dream, he knew it was a once in a lifetime opportunity.
For three months, Freeman trained around four hours a day with Speed Strength Systems in Cleveland, Ohio, putting his body to the test so he could perform his best for NFL scouts on pro day. Today, he waits for a call, hoping that someone will contact him for a tryout.
Despite the outcome, Freeman says he will have no regrets. Even though he took a major risk leaving school, he has every intention of completing his degree someday. And as the first from his family to go to college, he wants to show others that obtaining a degree is possible, regardless of life's situations.
"Yeah, football is great; you get recognition and you build a bond with your teammates, but education is beyond football — it's life," he says. "College is for education. Period. It sets you up for a career, and you have to take advantage of that … it should be an expectation, not an option."
Freeman compliments the Ball State football coaching staff because they've always encouraged players to have a plan B for when their playing days are over.
"They instilled in us that football is not going to last forever," he says. "You have to plan for a career. That's why you come to school; that's why you got a scholarship."
According to The Department of Education, only 3 percent of Ball State's student body is a varsity athlete. Being in this minority has taught Freeman much more than how to be a good football player and student. The discipline, time management and self-motivation needed to compete at an NCAA level has given him a realistic perspective of life after college. Freeman admits this experience has been no easy task, but for him, you must go the extra mile if you wish to succeed.
"Whether it's class, or the fact you got an F on a test, or that you have to get up in the morning when everyone else is asleep, or that you're down in a football game, you have to overcome the adversity in the end," he says. "I think that's the biggest thing about being a college athlete is that you're not just a regular student; you are obligated to do something extra, even when you are tired and hurting."
According to the Cardinal Varsity Club, Ball State ranks first in the Mid-American Conference, fourth in the country among public universities and ties ninth in the nation overall for its student-athlete graduation rate of 75 percent.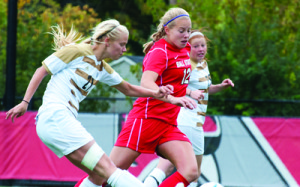 Fellow student athlete Brigit Reder's has a 3.94 GPA and a school record for 6,725 total minutes played in a career, another reflection of the self-motivation required to be a student athlete. But she has also had to put her academic accomplishments on hold.
Until her junior year Reder, who is a special education major, had her doubts about pursuing a professional career.
"I kind of thought, 'No disrespect to the MAC, but we're [in] the Mid-American Conference," she says. "I'm not in an ACC school, or Big Ten or SEC school … Not that I was playing myself down, but I was trying to have a realistic view of it all."
Despite her initial thoughts, Reder was invited to attend the combine for women's soccer players in Sunrise, Fla., to show off her skills in February 2013. After countless vertical jumps, 40-yard dashes and mock games, Reder impressed the assistant coaches for the Western New York Flash, a National Women's Soccer League team. For the first time, Reder realized that she had a shot at going pro.
A few days later, Reder went back to student teaching at Carmel Middle School in Carmel, Ind. — a requirement she must meet before she obtains her degree. During lunch one afternoon, she received a phone call from a Flash representative, offering Reder a tryout at their Buffalo, N.Y. facility. Though she was excited to receive the call, Reder was also hesitant.
In order to receive her special education degree, Reder must student teach two, 8-week sessions. She's finished the first, but was one week into the second program when the Flash called her. If she accepted the invite, she would have to temporarily drop out of college while she tried out.
Fortunately, the schools' officials were supportive, actually telling her to go. "Don't even question it. You go and keep trying," they said.
According to Reder, Ball State has helped her figure out the logistics of the situation, making it easier for her to pursue this new opportunity. Others close to Reder questioned her decision, accusing her of "giving up on her degree." But Reder doesn't see it that way.
"To put [school] on hold is definitely a hard decision," she says. "[But] that's the reality. I can come back to it and finish. I'll have the rest of my life, essentially, to stay in a classroom and to work."
So Reder left the classroom, packed her bags and headed east. For about four weeks, she trained with the Flash, including Olympic greats like Abby Wambach. Reder performed well in the training sessions, even winning team scrimmages with fellow rookies. However at the same time, she began questioning the path she chose. She was unsure whether she could stay focused on soccer while working another job to support herself in Buffalo, miles away from friends and family. And a part of her still really wanted to finish her degree.
When The Flash cut its roster down to 20 salary spots for the regular season, and Reder was given one of the five, unsalaried practice player spots, she got the answer she'd been looking for. Instead of signing a contract, she left, returning to Ball State to reevaluate her priorities.
Over the next few months, Reder's life was been a roller coaster of emotions as she battled between staying focused on soccer and committed to returning to school. Then, on April 8, 2013, Reder signed a contract with the Seattle Sounders, postponing getting her degree for another semester.
"It's nerve-wracking, and it's a big decision to make, but you have to have confidence in yourself," Reder says.
Reder will finish student teaching and get her degree, but during the Sounders' off- season for the 2013 fall semester.
Although popular sports like men's football and basketball saw an increase in their student-athlete graduation rates, the overall rate for NCAA athletes fell one percent between 2011 and 2012, according to the NCAA's latest report.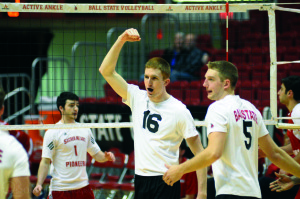 Men's volleyball saw one of the biggest decreases: from 87 to 79 percent. You could say that Ball State middle blocker Kevin Owens is an exception. He doesn't just plan to finish his actuarial science degree in four years; he plans to play professionally, too.
"Playing volleyball professionally is pretty rare for guys," Owens says. "So when I realized there were opportunities, I thought, 'Why sit behind a desk when I could do something I love and get paid for it?'"
Though most days start at 5 a.m. and end late for this junior, Owens is committed to staying on top of grades, maintaining a 3.5 GPA thus far. He hopes his determination will be a testament to his performance on an international volleyball team. After graduation he plans to start out in a lower league and work his way up toward the big leagues, which are in Italy and Russia.
Regardless of what happens, Owens and Freeman know their professional careers will not last forever.  They have a realistic outlook on the path that lies ahead and know that even when their bodies tell them to stop, their passion for the sport will live on. Until then, they will keep moving forward.
"There isn't a deadline to when I'll stop trying,"Freeman says.
"It's more of a mental state you get to, when you realize, 'OK this is not working for me anymore, and I need to move on with my life.' Whenever that is. I'll be completely fine, whatever happens, because football has taken me more places than I could have ever imagined … it has paved the way for my education, and I'm blessed because of the game."