Ball State women's golfer Autumn Duke perseveres after the loss of her father and shoots her best score ever at the Cardinal Classic.
Autumn Duke placed a tee deep into the ground, her Titleist ball, lightly sitting on top of it. A red-and-white flower was drawn into it, the same symbol she had used since her dad introduced her to golf over eight years ago.
Autumn, a senior on the Ball State women's golf team, was set to tee off on the crisp and windy Saturday morning of Sept. 22, the first day of the Cardinal Classic at the Players Club in Yorktown. She had already done this in 29 collegiate events before, so for the senior golfer, experience was on her side.
Except on this day, Autumn may as well have felt like a novice.
Six days prior to the Classic, on her 22nd birthday, Autumn's father, Larry Duke, died after being injured in a motorcycle accident. Autumn is one of Ball State's team captains and is known by her coaches and teammates as one of the most determined and poised players on the team. No matter who it was in her life, Autumn was a rock for the people around her.
"She's a very strong person, and she doesn't always like to show her emotion to the entire team," says Autumn's teammate and best friend Sarah Westaway. "And I know that before, being her roommate, that's just her personality. She's [a] very strong leader. She's extremely driven."
And now, more than ever, she needed the people around her to be that rock in her life.
Larry wasn't just Autumn's father. He was her swing coach, and the one who had introduced her to golf in the 8th grade. He was, as Autumn's best friend and teammate Sarah Westaway put it, a "friendly giant" and a man who "would do anything for anybody."
He was the one who had pushed Autumn to play college golf in the first place and to be the player and person that her teammates look up to today.
As Autumn approached her ball and looked down the fairway, she realized that for the first time in her life, she was golfing without her dad.
However, despite this reality, she had her family, team and faith at her side, Autumn would soon find out how even with the loss of the most important man in her life, she would never be alone.
GROWING UP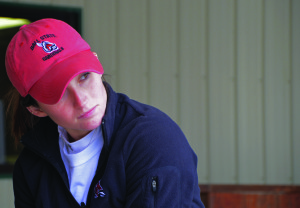 Before she even started playing golf, Autumn grew up immersed in athletics. Living in a condo in Geist Reservoir for most of her childhood, Autumn became a nationally ranked rock climber and committed figure skater.
Larry introduced her to golf in 7th grade, and immediately she was hooked. Her natural talent was enough to convince her family to move to Hamilton Southeastern so that she could pursue the sport at a public school the following year.
"My last year of homeschooling, I kind of got a spark for golf," Autumn says. "And it was like I didn't want to do any other sports anymore. I wanted to take lessons and get really involved."
Autumn quickly became one of the best players on the high school team. As a sophomore she peaked the interest of Ball State coach Katherine Mowat while she was recruiting former Ball State golfer Brittany Kelly.
"I already knew about [Autumn]," Mowat says. "People were talking about her."
As Autumn continued to improve throughout high school, the conversations she had with Mowat became more serious.
Eventually, she signed on with Ball State. Through the next three years, she became one of the best players on the team and was named team captain during her senior year in 2012.
Along with her talent, Autumn was chosen because she knew how to make her teammates believe in themselves, even before Sept. 16, 2012.
THE ACCIDENT
Autumn was at Starbucks with her mom when she received the call.
Her dad had been seriously injured. He had lost control of his motorcycle while he was in a memorial ride with his friends in Story, Ind. He was tangled in the bike as it flipped three times. At first, he was going to be airlifted to a Louisville trauma center to save time, but he was re-routed in the air to St. Vincent's hospital in Indianapolis.
A flurry of phone calls began. Autumn talked to her uncle, her boyfriend, and finally her grandparents — all of them just looking to get more information. Eventually, everyone ended up in the waiting room at the hospital.
The doctors called Autumn and her mom into her dad's room. A chaplain stood by, a silent sign of the severity of the situation.
As she entered the room and saw her dad lying under a white sheet, his chest rising up and down, the doctor in the room began to explain how Larry had suffered a "very bad brain injury," even though he was wearing a helmet. As the conversation developed, eventually the words "we've done all we can do" were spoken.
At 3:07 a.m., in the early hours of Autumn's birthday, Larry Duke was pronounced dead.
Autumn spent the next two days with her family in Fishers, Ind. Meanwhile, her teammates gathered together to console each other. Instead of just grieving over the loss of a friend's father, many were grieving over the loss of a personal friend as well
Once Autumn returned to Muncie, she sat down to talk with Mowat. Even though it didn't seem like golf mattered at all in the moment, the team still had a tournament to play in four days. Autumn needed to make a decision. Would she play?
"She wanted to play as an individual," Mowat says. "But I told her that if she was going to play, then play in your position. She had earned that."
After a viewing on Wednesday and a funeral on Thursday, Autumn decided she would play in the Saturday tournament.
"The big question [for Autumn] was, 'Oh my gosh, what's it going to feel like to for me to stand over a golf ball with my dad dead?'" Mowat says.
THE TOURNAMENT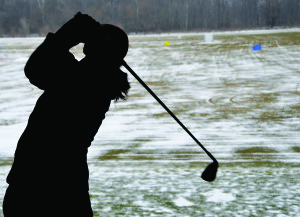 Autumn and Mowat both wanted the tournament to be as normal as possible, with just one condition: Autumn and Sarah Westaway, her teammate, roommate and best friend would play together.
Before play began, Sarah embraced Autumn, unsure of how Autumn would play one of the most mentally challenging sports on a day when her mind was already being challenged.
With her golf club in hand, Autumn turned her attention to her ball.
Feet set. Knees bent. Head down. Hips turned. Now it was time to swing.
As soon as Autumn's driver met the ball, it was just golf. Just like Larry had taught her.
Usually, Autumn was one to remember every shot she took, even if she had to recall the third shot on the 4th hole while she playing on the 17th. She was always critical of herself.
This time though, she couldn't remember the last shot she took. Her body and mind were numb, taking her thoughts out of the tournament. All she could do was guide each ball into each hole in as few strokes as possible. That was all her mind would allow.
That tunnel-vision approach came through for Autumn. By the end of the Cardinal Classic, she had recorded a score of 153 — 5th place out of a field of 74 golfers. Somehow, in spite of the circumstances, Autumn had shot her highest finish ever.
STILL GROWING
Nearly five months after Larry's death, everything Autumn had to endure is still burned into her memory.
And even as she relives every moment, tears never well up in her eyes. With a calm candor, she describes how her knees buckled and her face become ghost-white as the doctor told her and Judy that her father was brain dead.
Even though she will never forget that traumatic day, she moves forward by holding onto her faith and the memories of her dad.
"A lot of it I feel like is having faith and believing in God, because there's not a day that goes by where I don't think my dad is in heaven and I won't see him again one day," Autumn said. "Those two things keep me going."