Empowering through education
When George Srour first visited Uganda as a United Nations summer intern in 2004, he endured a heavy dose of culture shock.  Witnessing a community frustrated by dilapidated living conditions, a visit to a rundown primary school unnerved Srour the most.
"I saw a lot of kids thirsty for a chance to learn and to be in a learning environment that would make this possible," said Srour. "There was a severe lack of schools, and the ones that did exist were in very tough-to-reach places. A combination of those things led me to believe that I could do something through philanthropic efforts to make a difference."
After completing his internship, Srour returned as a senior at the College of William and Mary in Virginia. Srour calculated that if each of his colleagues donated a measly $1.81, the derelict school in Uganda could be rebuilt. With a goal of $10,000, Srour's expectations were more than quadrupled during a "Christmas in Kampala" campaign. He raised $45,000, which funded the construction of a three-story school named Meeting Point Kampala.  This led to the founding of an organization committed to building primary educational academies in sub-Saharan Uganda and fueled by youth across the U.S.  — Building Tomorrow.
Compelled by Srour's growing cause, a group of Ball State students are gearing up to support the organization's most successful reoccurring fundraiser, "Bike to Uganda." As representatives of the Ball State chapter of Building Tomorrow, these students are encouraging participants to bike a certain number of miles on stationary bikes until they reach the 750-mile goal, one-tenth of the distance from Muncie to Kampala, Uganda.  All donations from students and sponsors will be given to Building Tomorrow. Ball State's Building Tomorrow team is planning to host "Bike to Uganda" on University Green on Oct. 27.  The all-day marathon is aimed to also include live music and snacks.
Though it may seem like a lofty goal, the event is just a stepping-stone to the ultimate reward, raising $50,000 to build the next Building Tomorrow academy.  If the group reaches this goal over time, a team of Ball State architecture students will have the chance to design the school, and students at the academy will wear uniforms in official Ball State colors, cardinal and white.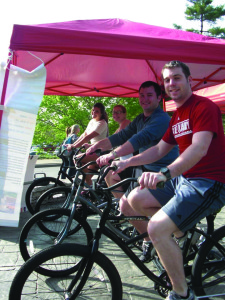 Bailey Stultz, a junior architecture major, works as co-leader of Building Tomorrow's promotion group at Ball State.  For the past month, Stultz along with her team have been searching for sponsors to donate to the Bike to Uganda event and thinking of ways to encourage community participation.  As an architecture major, Stultz hopes to be one of the student designers for the school in Uganda if the $50,000 goal is met.
Stultz joined the Building Tomorrow group at the end of last school year. She said she saw the organization as a chance to attain a leadership role as well as make a difference in someone's life.
"Education is a really important thing to me," said Stultz. "We're all really lucky to be attending a university. It's something I know I take for granted and I would like to help students who don't have a chance like this to feel like they have a chance."
Senior public relations major and vice president of Building Tomorrow's publicity and promotions team Ben Easley said he was exposed to poor living conditions in Africa during a missionary trip to Kenya with members of his church. Among other reasons, Easley said his experience in Kenya motivated him to become a member of Building Tomorrow.
[quote]"It breaks my heart when I think of people not being able to have the education they want."[/quote]
"I witnessed a lot of poverty and brokenness when I was in Kenya," said Easley.  "It breaks my heart when I think of people not being able to have the education they want — not on their own choice, but because they physically can't. How are you supposed to go to school when you need to walk to get water? You can't be in school if you're walking seven miles a day round-trip to get water for your family. That becomes more of a priority."
 In six years, Building Tomorrow has
Acquired 25 chapters across the country.
Raised over $600,000.
Built 10 functioning schools —
giving 3,500 children a chance at a proper education.  
Last year, about 60 percent of Building Tomorrow's funding came from colleges and universities.
Sro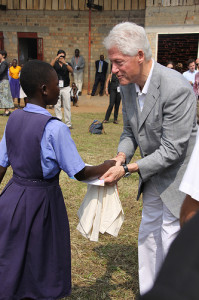 ur said he thinks this outpour of support stems from a growing awareness to conditions in underprivileged countries.
"People are beginning to realize how interconnected the world is. We can't use the excuse that 'Oh that's half a world away,'" said Srour. "It boils down to just being an awareness piece, where people feel like it's something they need to get behind. "
Despite the growing support, some statistics suggest proper education in sub-Saharan Africa is still out of reach. The Brookings Institute recently released a study saying that one in every two children in sub-Saharan Africa won't have basic literary or numeracy skills.
"That statistic is shocking, and it shows humanity that we have a long way to go in providing access to quality education," said Srour. "While we don't expect every child to gain a college education, equipping them with the essential skills to live healthy lives is something we ought to commit to without hesitation."
Building Tomorrow continues in its effort to change such statistics with the launching of BT 2.0. The organization committed to BT 2.0 as a part of the Clinton Global Initiative, a non-partisan global action organization introduced by former president Bill Clinton in 2005.  By 2016, Building Tomorrow hopes to enroll 15,000 primary-level students annually in 60 academies throughout East Africa. The initiative also plans to grow the enrollment of girls and design a curriculum suitable for students living in rural areas.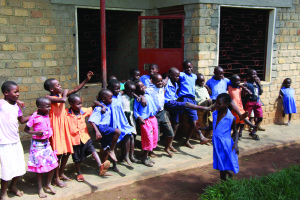 Since the founding Building Tomorrow, Srour returns to Uganda an average of four times a year to check on the progress of the academies and spend time with members of the community. He said that with every visit, the positive impact of attainable education within a community becomes more visible.
"You definitely see that there is a significance of having a real, permanent place in which to learn. It makes a big difference with these kids," he said.  "Our work is not just about academics, it's about community empowerment. When people come together to solve an issue, they realize they can be at the heart of the change they want to see. And I think that's what has made things as successful as they've been."